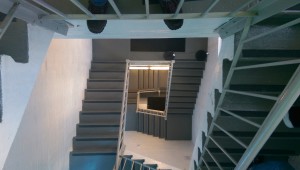 Although I was only able to attend on Saturday, I'm prepared to call MoCCA Festival 2015 a success: the new venue was airy and light-filled (if a bit daunting), the location of the panel discussions was fancy — schmancy, even — and the weather was beautiful. Okay, that last one wasn't up to the Society of Illustrators, but it was a bit of good luck, as the exhibit venue and the panel locale were about five minutes walk apart and if it had been an April-in-New York spitty, squally, rainy day, that would have been a miserable five minutes.
Center 548, the replacement for the Armory of the past four-five years, is arranged vertically rather than horizontally; in practice this means a few things:
There was one hell of a steep, narrow staircase to navigate as soon as you enter to get up to the second through fourth floors
The crowds marginally thinned out as you went upwards¹
I'm told there was a rooftop lounge, which I never found but many I'm envious of those that did
Along with the aforementioned light and windows and blue skies; it felt old and new simultaneously inside, not unlike the onetime location of the Puck Building (presently spending its day as an REI store and a bunch of Starbuckses).
The High Line Hotel (formerly some famous dude's home, laid out like an Ivy League quad with courtyards and vaguely connected subsections and echoing staircases that feel like they should be in a cathedral) hosted the panels in a pair of rooms that featured stylish, minimal decor (I felt like I was in a very tasteful Scandinavian loft apartment) with enormous stained-glass windows; okay, they were covered by shades, but they were still stained glass.
Accenting the Chelsea vibe, the courtyard entrance of the hotel was hosting a small marketplace aimed at fashionable dogs and the people that care for them, so there were corgis in tutus and handbag foofoo pooches to add a little color.
Oh, and there were comics, too.
The only real negative I can think of is that the floor was pretty loud; the Armory had that problem too, but it was greatly improved the last couple of years when tall drapes were put behind tables to cut down on echo. Drop those into Center 548² and I think you've got a great MoCCA Fest venue for the foreseeable future.
The MoCCA Festival was on shaky ground for a couple of years, but since the SoI took over, it seems to be assured of a successful future; I'm not sure how you can do everything that they do with a door price of five dollars, but I'm impressed that they do. See you there next year.
---
Spam of the day:
Zune and iPod: Most people compare the Zune to the Touch, but after seeing how slim and surprisingly small and light it is
You lie. It's been mathematically proved that nobody ever owned a Zune.
_______________
¹ This may have been an illusion, as it appeared the aisles were narrower on the second floor than the third and fourth — presumably to make room for the food service and Wacom lounge. Speaking of which, the food service was tasty, plentifully-supplied, and fast, but there needed to be places to sit and eat. Had I known about the rooftop lounge, that would have been a different story.
² Also find a way to completely retrofit staircases that are less vertiginous; easy, right?