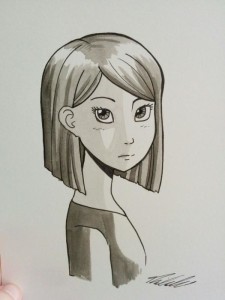 This Friday has been the least Fridayish I can recall in quite some time; it's all worked out in the end, but man I was up to my ass in cocodylomorphans for a while there. Here's some thing to consider:
Ryan North (aka The Toronto Man-Mountain) and David Malki ! (aka The Jack of All Trades) both hit on the topic of How Not To Be Terrible In Society And/Or On The Internet in their strips today. I propose we take them as guides for all future human conduct. We can all wear sea lion shirts while we do so.
I don't know much about the prior work of Jules Faulkner, but I saw way too many people whose work I do know tweet today about the launch of Faulkner's new webcomic to ignore it. Knight and Dave — the story of Sir Iris and his caprine sidekick, Dave — will run on Fridays with Mondays and Wednesdays possible if you make with support over at Faulkner's Patreon. Too soon to tell where this one is going, but so far, it's hella cute and cartoony.
TopatoCon¹ haven't announced any more exhibitors, but they did announce that they're now allowing half tables, so we may see the number of guests increasing from the 70 or so expected to 100 or more. Neat!
---
I have to clean house a little, so for the first time please enjoy the plural majesty of the
Spams of the day:
Hey webmaster,When you write some blogs and share with us,that is a hard work for you but share makes you happly right?
I'm perfectly happly to not work hard, actually.
Ways to lose weight – Fat Loss System – The best way to lose weight.
Dude, have you seen me? If I turn sideways I disappear. The last thing I need is any kind of weight loss system.
Attractive section of content. I just stumbled upon your web site and in accession capital to assert that I get in fact enjoyed account your blog posts.
All any blogger really wants is to provide accession capital to assert that readers enjoyed account our blog posts. Hits you right in the feelings.
… let's not ever put this much stupid in one post again.
_______________
¹ I started wondering why TopatoCon's twitter is @topatocon2015 and not @topatocon, and then I found out: @topatocon is a dude that's a fan of the LA Lakers and an LA TV meteorologist.