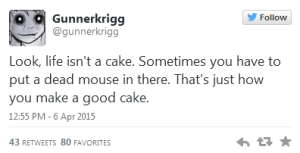 We're headed in several different directions today. It's an adventure!
---
Spam of the day:
Hi my name is Janette and I just wanted to drop you a quick note here instead of calling you.
a) It is very unlikely that is your name, and b) people that call me are subject to significant levels of verbal abuse. I once reduced a I am calling from Microsoft Technical Support, we have detected a virus on your computer to a frothing rage. Then again, it's pretty easy to provoke that when you study the work of the master.
_______________
¹ Which presented a dilemma — which episode of Star Trek would make the best fodder for a humorous piss-take? Something intentionally silly like Planet Of The Gansters A Piece of the Action? Something no-doubt well-intentioned but more than a litte train-wrecky, like Planet Of The Primitive Blonde Americans (Not Native Americans, They Get An Episode Next Season) And Yellow Peril Communist Stereotypes The Omega Glory? Something well-intentioned and a bit heavy-handed but not entirely train-wrecky like Racism Is Bad, Mmmkay? Let That Be your Last Battlefield? Something completely off-the-rails insane like Space Hippies Don't Like Herbert The Way To Eden? Coming near the end of Trek's run, Morgan-Mar's skills ought to be nicely sharpened by the time that one comes up in the rotation. Ultimately, I went with a strip yet to be drawn — the ur–Planet Of story — one which should sum up everything in SF's tendency towards every planet is just one thing: Planet Of The Nazis Patterns of Force.
² I'm assuming ten US dollars a month, since Patreon in a US-based company, but don't discount that he's looking for ten Australian dollars, which would be about seven and a half American at today's exchange rates.