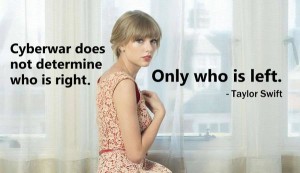 Lots of people are already halfway into ham-mode, what with Easter and all; even those who are not believers tend to go big on the ham. I only have two brief items for you before I call it a week and take a nap.
Item the First: New TopatoCon guests announced! While exhibitor applications are open for a couple more weeks, we now have our second and third confirmed guests, Jeph Jacques and Jess Fink. In the immor[t]al words of TopatoCon's governing body:
We should put @JessFink and @jephjacques in a room and see who can draw the most boners in five minutes. #topatoconeventideas
I volunteer to be the timekeeper of this event.
Item the Second: I don't know if you follow the nameless, heroic computer security specialist that tweets behind the façade of a world-ruling pop star, but InfoSec Taylor Swift has impressed the hell out of me with their knowledge, analysis of current security threats, and snark. Even better, as the person that ends up Designated Tech Guy At Family Gatherings, InfoSecTayTay has put together a hell of a timesaver: a guide to securing computers that I can point relatives to instead of doing it all myself.
If you end up being your own tech support, you could do worse than bookmarking Decent Security (work in progress, so revisit often) and examining your own habits and practices. It's rather Windows 7-centric at the moment, but the page titled Computer Security Is Not Magic applies to everybody.
Okay, that's it. Enjoy whatever you may celebrate this weekend, and don't forget: chocolate goes on sale Monday.
---
Spam of the day:
My spouse and I stumbled over here from a different page and thought I might check things out. I like what I see
What you and your spouse do is none of my business, please do not involve me in your sex games okay thanks bye.