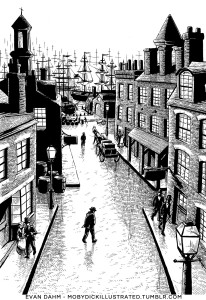 Yeah, yeah, I know, I'm late. Let's do this.
Evan Dahm's got me convinced that I'll need a copy of his Moby-Dick Illustrated. His first chapter illustration has the feel of a woodcut crossed with an engraving, and a brooding, heavy quality that pervades the atmosphere in the same way that lightness and hope suffused his Wonderful Wizard of Oz drawings. I never had much desire to read Moby-Dick, but if it inspired work like this, I'll need to give it a fair try.
MoCCA Fest will be having a dedicated lounge for special sponsor Wacom, all day both days of the show. You'll be abe to see (and play with!) Wacom's various products, and there will be five demos spread across the two days from a variety of well-known artists.
Abby Howard started her webcomicking with a vaguely autobio strip, broke through to a wider audience on Strip Search, and parlayed that into a hell of big Kickstart for The Last Halloween, which continues to delight and startle. She's turning full circle back to that vaguely autobio¹ strip and Junior Scientist Power Hour will collect the best strips since its launch into a 200 page book, provided the funding goal is reached oh who am I kidding, it's Abby, people love Abby, she's going to crush this.

Since it's not an every-strip-reprint project, I can only hope that my personal favorites of her strips — Sadness Brownies, Creepy Dog — will be included. An added bonus in some tiers will be Junior Paleontologist Power Hour, which could be an expanded version of the early strip of the same name, the more recent five-part maxi-series How To Dig Up Dinosaurs, or some combo platter of the two. Regardless, I'm in, because Abby loves dinosaurs makes good comics about them.
---
Spam of the day:
This design is incredible! You obviously know how to keep a rezder entertained. Between your wit and your videos, I waas almost moved to start myy own blolg (well, almost…HaHa!) Fantaetic
Sir or Madam, I believe that you may not be perceiving reality as it actually is. Please check that you are in a safe space, and call for medical assistance.
_______________
¹ Does anybody believe that 80s Tom Hanks really lives in a hole in her bedroom? Actually, now that I think of it, it is entirely possible.