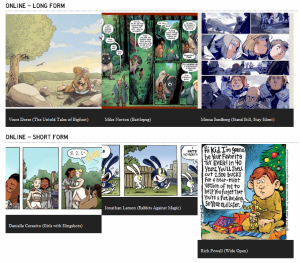 Okay, one April Fools, because Emily Carroll's work is too spooky for some people, she made the ending of her critically- and popularly-acclaimed His Face All Red less mysterious and spooky.
---
Spam of the day:
Mayo Clinic Study-Eradicate Diabetes
While more plausible than your previous attempt to hook me in by claiming NASA had figured out the cure for diabetes, I still somehow doubt the truthfulness of your claim. I've been up to the Mayo Clinic for work, and I've rarely met a group of people so dedicated to their work² and you know what? They have an actual public affairs office, one that does not announce major medical breakthroughs — and a cure for diabetes would rank up there with the polio vaccine and the eradication of smallpox in terms of medical breakthroughs — by direct-emailing me at my blog on webcomics. Try harder, you horrible people.
_______________
¹ Finding herself under doctor's orders to not use her right hand, she taught herself to draw just as well with her left, which she then promptly injured from overuse so the right wouldn't be jealous. She's gotten better about pacing herself but make no mistake — this is a woman that can draw better than you with either hand.
² In the main lobby there is a display case showing the gifts that they give you for your 5th anniversary working for the Clinic, 10th, 15th, etc. They went all the way up to sixty-five friggin' years, which I believe is the definition of dedication.