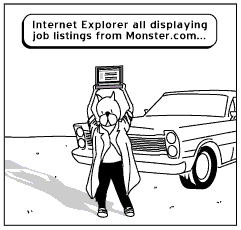 We're about to get philosophical up in this business, verging on straight-up nostalgia.
So I went out to a comic book store last night after work; everything on my pull list is waiting for me when I get back home tomorrow, but sometimes you find something that you didn't know you were looking for. Last night, that something was noticed on the way out of the shop (Ssalefish Comics & Toys, btw), where a poster adorned the side of a rack next to the door.
A poster from the 2007 American barnstorming tour by Liz Greenfield in support of Stuff Sucks, whose onetime-website is now a clickbait Tumblr. For those of you too young to remember Ms Greenfield (aka the John Cusack of webcomics, seen in the photo here), the first six pages of Stuff Sucks can be seen here, her more recent webcomic, Swallow, was discussed at that photo page, and you can of course trawl the Wayback Machine up to 2009 or so.
Which got me to thinking about comics that are essentially lost to time — Return To Sender (safe to Wayback to 2005 or so), Skirting Danger¹ (stopped updating half a year before this blog launched), and more — ephemera remembered by those of us that loved the work, oftentimes early enough that the creators don't necessarily feel any great affections for it.
Which has me wondering if there's a place in webcomics for something like the Internet Archive, but focused — keeping webcomics in a safe place against the possibility of computer crashes or database corruptions or lapsed domains or evil, evil scammers. There's moral, legal, and ethical considerations, but I'd love to be able to read through Stuff Sucks again, easily, in its original context.
Yes, I have the CD jewelbox²-insert-sized Stuff Sucks print comics (heck, I'm still carrying the iPod Nano with the Stuff Sucks wrap on it), but what about Return to Sender? Or Skirting Danger? I am talking here about comics that disappeared ten years ago and when I stop remembering them, it'll be like they won't have existed at all.
Except RPG World; there will always be one person that asks Ian Jones-Quartey about it at a Steven Universe³ panel and strengthen his resolve to never go back to it. In a way, it's immortal.
---
Spam of the day:
A perfectly grand piece of historical record and synthetic journalism. — Chicago Daily Tribune
I choose to believe that the Trib is talking about me, so thanks for that.
________________
¹ Fun fact — back in the day, I browsed to Skirting Danger while it was in that space between hiatus and retired and saw that the domain had expired. I gave the registrar ten bucks and renewed it in Meredith's name because I liked it.
² Ask your parents.
³ And because I haven't specifically mentioned it — how great was that last burst of episodes at the end of Season One? So great.