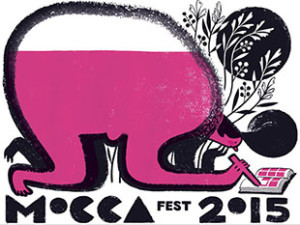 It occurs to me that while I mentioned programming at the upcoming MoCCA Fest t'other day, I neglected to make mention of the special guests that will be there. Obviously, Scott McCloud and Raina Telgemeier will be there, what with their spotlight panels being discussed, but there are loads of others.
(For those wondering who is going to be at EmCity, which kicks off tomorrow, the answer is: everybody. Every person in webcomics is gonna be there.)
Joining Telgemeier and McCloud as special guests will be Aline Kominsky-Crumb: painter, cartoonist, collaborator with husband R. MoCCA has also always made a concerted effort to bring cartoonists (both guests and exhibitors) in from overseas (remember the year of the Swedes?), and continues the tradition this year. The emphasis this year is on French-speaking countries, from whence come:
Several of the international guests are touring in support of their first translated-into-English work, so it's an opportunity to get in on the ground floor in following talent that new to those of us that don't speak French, Dutch, or the Belgian variations on French and Dutch.
MoCCA Fest runs Saturday and Sunday, 11 and 12 April, from 11:00am to 6:00pm. See you there.
---
Spam of the day:
93 Mouth-Watering Quick Easy Recipes at a Whooping 66% discount!
I'm not sure if you mean a whopping discount (as discounts typically do not whoop, but honestly — do they whopp?), but that's actually the lesser of my concerns. What exactly is being discounted? The recipes themselves? The watering mouths? Enquiring minds want to know!