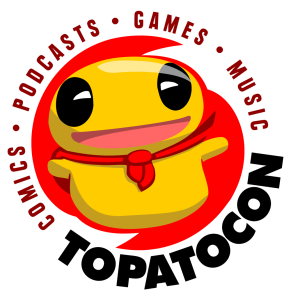 As promised, I spoke to Holly Rowland, fancy lady and TopatoCo Vice President of Kicking Your Ass about the upcoming TopatoCon. The following is not an interview with precise quotes, but reflects the conversation we had.
On why she wants to run a con:
In part, it comes from the fact that it's been nearly five years since New England Webcomics Weekend was last held; in part, it comes from going to a bunch of different conventions and making an internal wishlist of all the things you want to see in one place. Sometimes that's a balancing act: you don't want to be on panels, but you don't want an absence of programming; you don't want just comics, but you don't want a huge pop-culture extravaganza either.
TopatoCo's creators are at the center of a Venn diagram of a bunch of different things — comics, music, podcasting, books, comedy, film making, game design — and it's a good time to find a show that embraces all of those things, along with the sense of camaraderie you get from something like MaxFunCon.
On how that fits in with the curated exhibitor selection:
Rowland and her fellow showrunners (Sara McHenry of Make That Thing and Rich Stevens of … everything, really) want to keep the feel of the show consistent; curating means that they can balance the number of comics artists with those that create streaming content, or podcast, or make music. Finding a messload of creators that do multiples of those things (I'm definitely thinking that Kris Straub should get in contact with Rowland) would be the dream.
On why now, instead of last year or next year?
Verbatim answer: Because my business coach yelled at me. She was talking about her big dream, what kind of show she'd like to see, and he kept saying Go. Go do that. Don't wait, it'll make you happy.
On the size and scope of the show:
In part due to the available space in part to keep the first year¹ from getting out of hand, there will be a limit of 70 exhibitors and 2000 tickets sold. But those limits will allow for some interesting choices — for example, there won't just be a tabletop gaming area, there will be a tabletop gaming area where you play with the game's designers and there will be table service that will bring you beer and chicken fingers.
I've never used a standout color for text on this blog in going on ten year but I had to; with that single decision, Rowland has invented a model that every other show will try to emulate because goddamn is that brilliant.
On when we get logistic details:
Exhibitor applications will be opened up on Monday, 23 March, and run for a month. When the curation process is done, the exhibitors will be announced along with venue details. However, we can share that TopatoCon will be held in a hotel with conference center capabilities, and two nearby hotels are also going to have room blocks available.
The first day of the event (Friday, 25 September) will be out-of-hotel, with various community-type events while setup is wrangled. Saturday and Sunday will each be $20/day; the organizers have opted against weekend passes, as they want to give as many people as possible the ability to attend. Too often shows have seen multiday passes go to somebody that only uses it part of the time, so this approach is designed to make people think about when they'll actually be there. To help make it easier to attend, passes will be transferable.
On big names attending:
Nothing to share yet, but she's got big dreams. Oh yes, she does.
Fleen thanks Ms Rowland for taking the time to answer our questions, and for continuing to kick asses.
---
Spam of the day:
michael kors online shopping outlet
Michael Kors is a bitchy, ambulatory tangerine². Put him in room with John Boehner (ugggh) and Guy Fieri (the human cheese-fry) and you will have all the most unfortunate personal-style decisions ever made in one place.
________________
¹ With the plan that TopatoCon will become an annual event, assuming nothing disastrous happens.
² Which, let's be honest, is why I loved him on Project Runway; nobody is as creative in their dressing-down of the defiantly egotastic as Kors. But man, he's got to cut back on the tanner.