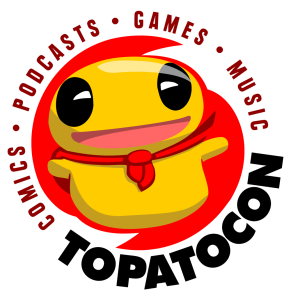 So maybe a week-ten days ago, TopatoCo Vice President of Kicking Your Ass Holly Rowland put a tweet out into the aether that caught my eye with its mysteriousness:
Are you a TopatoCo creator? You just got a SUPER RAD EMAIL, my friend.
I was wondering what was up with that, given the immediate enthusiastic responses that it gathered¹; the medium being Twitter and the participants being webcomickers there was discussion of ASCII dicks, but mostly enthusiastic agreement to something the rest of us were not privy to.
I suspect that we now know what was in that email:
Twitter buddies, would you like to know a secret? Look at this; http://www.topatocon.com/
At the time that the news broke I was giving a tour of an ambulance to a troop of Daisy Scouts², but my reaction when I found out was spontaneous and heartfelt. For everybody that's missed the magic of those two New England Webcomics Weekends of March 2009 and November 2010 and wondered if the magic could ever strike again, it appears that the answer is yes:
Announcing the first TopatoCon. We're putting together some of the best people in comics, podcasting, indie gaming and music.

In addition to our 70 exhibitors that we're collecting from all over the internet, we're going to have three programming tracks: we'll have live podcasts, TED-style talks about comics and culture, and premium workshops where attendees can learn a hands-on skill. Plus! Tabletop gaming, nightly events, and more!
We've had a bit more information since then: exhibitor applications open up on Monday, it's being run by the folks at TopatoCo (duh), probably with an assist from Rich Stevens because nothing happens in that town without his say-so. Given the depth of their involvement in NEWWs 1 & 2, I have no doubt that this show is going to run like friggin' clockwork, because they know how to make shit happen. Since there are fewer than 60 TopatoCo creators to fill 70 exhibitor slots, we'll see at least some creators from outside the TopatoCo family. Past that, it's all speculation at this point.
But! We'll know more tomorrow, because in a few hours I'll be talking with Holly and getting as much info from her as I can so that we can all start making plans. In complete and utter honesty, the very first thing I did when I got to work today was put in for vacation time; you cannot keep me away from this event and I very much want to see you there.
---
Spam of the day:
3, see text.Rhamphotrygon Sundevall, 1872
When I saw this (in a spam shilling for a cheat-on-your-spouse website) I thought that Rhamphotrygon sounded like a relative of Rhamphorhynchus but it turns out it's a genus of Tyrant Flycatchers, which sounds pretty bad-ass. Not as bad-ass as pterosaurs, but I'll take it.
_______________
¹ My best guess at the time: TopatoCo had prevailed upon the IRS to declare that all monies made via their webcomics merchateria had been declared "a public good" and thus subject to a tax rate of minus 47% and they were all getting enormous checks from the feds.
² Adorable, but slightly exhausting.