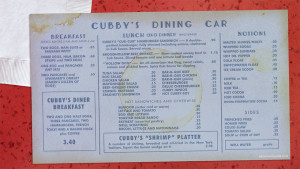 Lots of things getting back into the swing today. Good times, good times.
First of all, I don't wish to get up any hopes, but it appears that there is a new content page at Broodhollow¹, following a chapter title page last week. It's been a long hiatus, what with Kris Straub welcoming a small alive human into his life and designing the book 2 Kickstarter and in his copious free time making all kinds of other media.

There's a million ideas inside of Straub, all demanding to be brought into the world in some form or another, but I suspect that Broodhollow is the one that he will look back on as the most personal and closest to his heart … and the jokes on the new page ain't bad either. Welcome back to West Virginia's most eccentric town; hope you decide to set and stay a while.

Likewise, I don't want anybody getting too excited, but in the past week we've seen as many updates to the long-paused Misery Loves Sherman as we've seen in the past four years. I know that Chris Eliopoulos has been busy, what with lettering every other comic book on the stands, as well as writing and illustrating them². Creating a webcomic takes time and he's a man with little enough of it, but it'd be good to see Sherman & company back on the regular.
Sort of a relaunch, sort of not: Samantha Leriche-Gionet, known professionally as Boum, has been chronicling her life at Boumeries for more than four years now (if you haven't read it, it'll make you think of American Elf), and three years back she did a print graphic novel, La Petite Révolution. Starting today, she's serializing Révolution online in the original French and also translated for the first time into English; A Small Revolution will update Tuesdays and Thursdays, with five pages up today to get you started.

The main character is young, a street-dwelling orphan, and deceptively cute. I suspect that she is going to surprise everybody — in both the uprising and the oppressive dictatorship — with her determination to make things change, and woe betide those that underestimate her. Never forget: revolutions are where the old scores get settled. For me, I think I'll read the English and French pages side-by-side, see how much I can make out from context. I'm a long way from studying French in high school³, but there are so many good comics in French, brushing up can only be a good thing.
---
Spam of the day:
Hello to every , because I am in fact keen of reading this blog's post to be updated on a regular basis. It carries fastidious data.
I have achieved the pinnacle of hack webcomics pseudojournalizing. Did Eric Burns-White ever get complimented for the fastidiousness of his data? I think not. Suck it, every other webcomics blog!
________________
¹ That one menu tells you more about the town and the place/time it occupies than any three pages of text could. Bravo.
² Not to mention dealing with what must be more-than-infrequent confusion over the fact that there is another Chris Eliopoulos working in comics. I mean, there are other Gary Tyrrells in the world, but none of them are in the field of hack webcomics pseudojournalism.
³ Although, more than 20 years after studying or speaking it, I retained enough to conduct Eurailpass redemptions with a ticket agent in Brussels, and also to achieve my basic standard for functionality in a language: I was able to obtain a room for the night, a meal, and a beer.