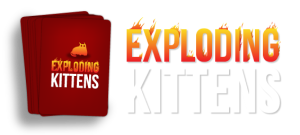 The gamification of the Exploding Kittens Kickstarter campaign continues; if you thought that just because the actual campaign ended two and a half weeks ago that Lee, Inman, and Small would stop telling the world about it, well, you've underestimated their desire to create an ongoing narrative.
See, there are elements of Exploding Kittens that are backer-specific (like the surprise in the box or the NSFW deck), but the game will be available in some form or another after backers have received their rewards — apparently in perpetuity, what with the game blowing up to be bigger than Jesus and all. So to keep interest at a high level, the EK team have decided to make early copies available to interested play-testers; presumably, the feedback will be used to tweak the game prior to release. You can be one of these playtesters, or Kitten Consul as they phrase it:
Create a YouTube video explaining why we should choose you to be a #KittenConsul for Playtest Deck #3. Tweet a link to your video to @gameofkittens with the hashtag #KittenConsul.

We'll accept the top YouTube videos evaluated by YouTube likes. (Dislikes will be ignored, let's share the love)
We'll also pick a bunch ourselves that tickle our fancy.

Your tweet and video title must both contain "#KittenConsul."
Video must be 60 seconds OR LESS, and it must be on YouTube.
Your playtest party event must occur between April 3rd and April 19th.
Video AND video description must include the location, date, and duration of your playtest party.
Your kitten consulate location must be open to the public. (No private residences please!)
Likes will be tallied March 24th 11:59PM EST.
We reserve the right to refuse applicants as we see fit.
No purchase necessary.
That all went up yesterday afternoon. As I write this, there are a few dozen tweets mentioning the hashtag, although in some cases multiple tweets reference the same video. Over at YouTube, there are bit more than two pages of matches for kittenconsul, with about two dozen of them being probably relevant videos. It's looking like the 60 second maximum duration was a smart idea, as team Kitten will have a substantial number of these things to sort through on the 24th¹.
Is this all just a case of preaching to the converted? Sure, everybody that's heard about the contest is probably already in the Exploding Kittens Kult, but if this thing has legs (and it likely will), a fair number of those videos will remain on YouTube for years to come. The name of the game is Exploding Kittens for glob's sake — somebody is going to be putting actual cats into their entry, which means there's a nonzero chance that at least one of them goes some degree of viral and hooks in people that don't know about the game. Yes, yes, the game went huge, but you know what's bigger than the number of people that pledged for Exploding Kittens? People that didn't and might become later customers.
You know what's bigger than those future customers by orders of magnitude? People that have never even heard of the damn thing. Your friend that only reads two websites and avoids all comments. Your aunt that sends you Facebook posts that make you wish you could force Snopes into her brain by wishing. The people who have jobs and school and fewer devices and don't get to screw around in close proximity to the internet all day. Astronauts aboard the ISS, sailors at sea, military personnel on deployment, and the ever-popular Florida Man, just back from six weeks in county lockup. The people that don't know about a thing will always outnumber those that do (no matter how popular it is in your experience), and Lee, Inman, and Small are going to reach as many of them as humanly or kittenly possible.
---
Spam of the day:
So if you wish you have a wonderful dinner some evening or you have a special event to celebrate, try Gary Danko Restaurant.
I find it utterly hilarious that this text was part of a spam that was shilling for Olive Garden. Maybe they were hoping that some reflection from Danko's Michelin stars would stick to their sad, bland, revolting (yet cheap) food-like substances? Yeesh.
_______________
¹ I know, you don't have to watch a video to count up how many likes it's gotten — but you do if you want to declare additional winners that tickle your fancy.