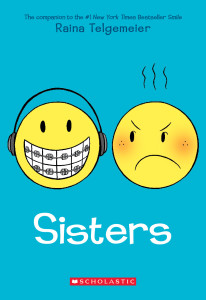 Over at The Beat, Heidi Mac does a nice piece on the year-end graphic novel sales figures compiled by retailer Brian Hibbs and something awesome jumps out right at the top of the list (of which the ten highest are shown here):
176,197 — SISTERS
152,220 — TALES FROM A NOT SO FABULOUS LIFE
150,523 — SMILE
129,679 — HYPERBOLE AND A HALF
94,152 — DRAMA
84,707 — BIG NATE GRT MINDS THINK ALIKE
83,639 — STAR WARS JEDI ACADEMY
78,132 — STAR WARS JEDI ACADEMY RETURN
74,581 — DORK DIARIES OMG ALL ABOUT ME
72,520 — CANT WE TALK ABOUT SOMETHING M
Several somethings, actually. First, Raina Telgemeier absolutely dominated GN sales in 2014. Second, keep in mind that Sisters wasn't released until the last week of August, meaning it was only on sale for about a third of the year; a full-year sales figure would be likely above 500,000 copies. But Gary I hear you cry wouldn't sales taper off after everybody bought the book?
Third thing: the #3 best selling GN of the year was Smile¹, perennial New York Times bestseller; if she can sustain that kind of interest across five years, Sisters could continue to sell across one. And what's that at #5? Drama, which came back onto the bestseller list because a new cohort of readers is discovering Telgemeier's work and seeking it out. If Sisters had released earlier, there would have been a bump on Drama as well.
Yes, this is all based on Bookscan from Nielsen, and it doesn't cover everything, and the actual sales numbers are estimates² and yadda, yadda. Take all the friction points into account, and the story of one young girl who a) got her teeth knocked out; and b) learned to have a relationship with her younger sister sold twice as many copies as the largest, most globally-dominant IP factory in history; Superman, Batman, Spider-Man, the Avengers, and all the rest aren't even in the same league as a 10 to 14 year old with braces from San Francisco. It was the Year of Raina, and I'll fight any man-jack of you that says different.
Also awesome:
Here's the deal — I've never read Moby-Dick, and despite all I've heard about it being the Definitive American Novel³, I've never really felt the urge to do so. But then I saw flutterings in the Twittersphere that Evan Dahm wants to give the same illustrated adaptation treatment to Moby-Dick that he did to The Wonderful Wizard of Oz. So while I still don't want to read Moby-Dick, I have a powerful hankering to read an unabridged edition of Moby-Dick with illustrations by Evan Dahm. This may turn into a scene out of BONE where Dahm is Fone Bone and I'm … well, everybody else that Fone Bone tries to get to read Moby-Dick, but goshdarnit I'm gonna try.
What's more adorable than Scott C illustrations? Darn near nothing, with the possible exception of Scott C illustrations of classic Disney animated films, which just happens to be the topic of the poll to determine what the next series of Great Showdown prints will be! Voting ends tomorrow, so be quick and pick out your five favorites, and either reply to the poll post, or via email to a gentleman named scottlava who happens to be available at the Google mail dot-com. Me, I don't think you can ever have enough Pongo and Perdita, but everybody's got their own favorites.
---
Spam of the day:
APPRENEZ A PIRATER LE COMPTE ET LE MOT DE PASSE
Man, I wish that Google Translate could come up with an acceptable French phrasing for snort my taint (all credit to the inestimable Ken White).
_______________
¹ As it turns out, today is Smile day, 26 years to the day since Raina knocked out her teeth.
² Come to think of it, I wonder how these numbers account for the Sisters/Smile combo box set? One copy of each sold, or does it show up under another line item further down the list?
³ One of three that I hear regularly given the title, the other two being The Great Gatsby (which I loathe) and Tom Sawyer (which is terrific and I guess means the designation of Definitive American Novel has at least a one-in-three hit rate).