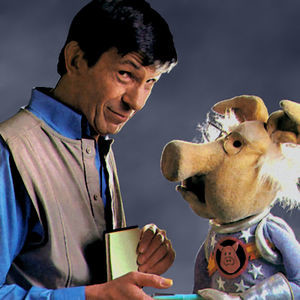 Jim Henson, or maybe Mr Rogers.
Leonard Nimoy died today. He cast a long shadow over the culture of the past 50 years or so, and as such was known to show up in webcomics from time to time with nary a word of explanation. Nobody needed to be told who Leonard Nimoy or Spock was, they're ingrained in us, almost as birthright.
When the news came down the other day that he was ailing and admitted to the ER, I figured the end would not be far off; as such I took particular comfort in the last part of the first sentence of his obituary at the Times:
… died on Friday morning at his home in the Bel Air section of Los Angeles.
I'm glad to hear it made it out of the hospital and back to his family, glad to hear that he didn't run out his time attached to tubes and machines. We were better for the example you set for us, Mr Nimoy, and hopefully we'll be wise enough to remember those lessons and their teacher. Thank you.