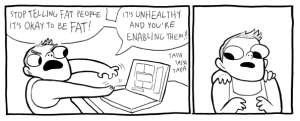 I am having a serious amount of creator-love for Abby Howard these days.
In the past couple of weeks she has posted (by my count) five comics, all of which are certain to have made people uncomfortable. Two of them were updates to The Last Halloween, which is always unsettling and creepy, the fun way that being scared and then coming out the other side is entertaining.
The other three — two updates of the mostly-autobio Junior Scientist Power Hour, one guest update at Oh Joy, Sex Toy [there's going to be a link below, which may or may not be safe for work] — are likely to have unsettled people more, because they aren't about ghosts and ghouls and creepy things that don't really exist.
They're about things that we, as a society, try to pretend don't exist, things that are getting right up in our faces and saying Shhh, shhh, it's time to be quiet now. They're about how fat women exist, in defiance of cultural norms and desire of people to correct their flawed existence, and how some of them have sex. The fact that that last link is actually about explaining BDSM best practices is going to be less shocking to a lot of people than the fact that it features a woman who is not model-thin.
Howard has done a huge service to a bunch of people who never would have thought twice about these issues¹, and she's done it by sharing herself with the world. Or, to put it another way, but making herself a target for the trolls and assholes of the entire damn internet. I suspect that the trolls and assholes will have difficulty dissuading Howard from continuing to exist as she does. To quote:
And don't worry guys, I wouldn't be making these comics if I was super miserable. I am feeling great about myself right now, so there's no need to send me cheer-up messages or anything, I know I am rad and beautiful.
I don't know how many people will change behaviors or attitudes based on what Howard's shared, but she's given me a lot to think about. As the token skinny-ass member of a family that tends towards the definitely chubby, I'm probably better than most about not regarding fat people — especially fat women — as inherently disgusting and worthy of shame-slash-disregard. Which is to say, nowhere near as good as I should be; it's still too easy to fall back into denigration patterns when I don't know somebody personally¹.
As somebody with a bit of medical training, I'm also aware that despite the fact that in terms of population and probability, the correlations of obesity and some pretty terrible health problems are well established, the weight:healthiness relationship is very much particular to the individual. There are people who need to drop a vast amount of weight or they are going to stroke out, soon. There are people who are carrying extra mass and are perfectly healthy.
That being said, I have not always done a good job of avoiding uncharitable thoughts about those who I have to carry down staircases and around tight corners when they are on the higher end of the weight scale. In my defense, when it's just your 60kg (130 pounds) ass and one partner at three in the morning and the stretcher that's rated for patients up to 160kg (350 pounds) is audibly groaning with metal fatigue, you are naturally going to think of the 50kg (110 pounds) patient from earlier that night as your very best friend. I try to channel my feelings into a dislike of gravity rather than people.
Or to finally get to the point: thanks, Abby. You've very generously given the world a lot to think about, and I suspect your radness and beauty will cause some people to change for the better.
---
Spam of the day:
Oprah, Kill Starch Absorption. Drop 22lbs in 4 weeks.
Your spam looks even stupider for being sent today than it would have otherwise. Try again.
_______________
¹ I'm trying, but habits die hard; it's taken me most of the past year to limit my criticisms of my governor vis-a-vis his weight. He's a bully, a hypocrite, morally bankrupt, and probably criminally corrupt, but those things have nothing to do with being a fat guy. If I slip up, call me on it.