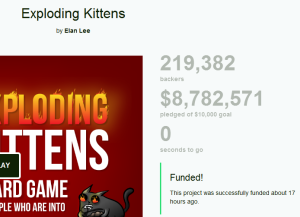 When I pointed out yesterday that it was possible for Exploding Kittens to pick up some US$600K in seven hours to become the #3 most funded Kickstarter of all time, I wasn't entirely convinced. But there it is¹, and with just shy of 220,000 backers (Heck there were more than 200,000 in one reward tier) it has set a support record that is not likely to be broken for a long damn time. Now let's just hope it's as fun to play as we're all betting.
But first, let's let the team of principals — Elan Lee, Matthew Inman, and Shane Small — have the weekend to not think about this project, its enormous community, and the immense task they've taken on of making sure everybody's happy². Lee estimates that will take him the next two years.
Hey look at that — the Nebula Award nominations are out and Ursula Vernon recognized the Short Story category for Jackalope Wives, a cracker of a tale about skin-walking and Vernon's latest excellent take on a feisty wise old woman (cross reference here). I haven't read the other nominees in the category so I can't say that Jackalope Wives is the best story in the bunch, but it is damn good and worthy of your time.
Uh-oh. Howard³ is planning something. Take care around your wallets, whatever he makes is going to look alway appealing, and it'll no doubt regular readers & book buyers to make new purchases, and then he'll do the I got paid three times dance. Last time that happened, I had to buy him a smoothie while we dodged a massive zombie walk snarling the Gaslamp district of San Diego.
---
Spam of the day:
Online Married Ladies Seek Immediate Offline Boinking*.
I do not want to know what kind of clarification is hiding in that footnote.
_______________
¹ And there's still a week or so before the final figure gets adjusted due to failed payments.
² Which may be considerable. How many people in the world do you figure are complete and utter dicks about the smallest things, the ones who will complain and whine and make your life miserable, particularly if they figure that you're faceless and remote and have infinite resources and why are you oppressing them? One in a thousand? One in two thousand?
By those extremely optimistic projections, Lee & Company will have to deal with literally hundreds of miserable sumbitches on the internet. Delivery delayed by a day? Box a little dented? Color scheme not perfectly as imagined? They're going to be dealing with that for potentially years, so it is my sincere hope that the EK team spends at least 10% of the funds raised on whatever they find pleasurable and distracting.
³ Evil twin, etc.