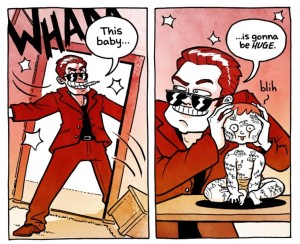 It's Thursday. We could all use a little uplift today, so let's look at some critical and popular successes.
Following up on yesterday's story about The Sculptor becoming a movie, we have the closest thing we're going to get to an insider view of what happens when your creative child gets adopted by the studio system.

Lucy Bellwood has a unique point of view on Hollywood — her mother is a script analyst, and her father one the screenwriters of Highlander¹, so she can tell you from long experience what Hollywood bought your thing and now it's going to be a movie! is like, and she shares it in comic form at The Nib. It's not pretty.

Don't get me wrong; should a movie of The Sculptor actually ever be made — and that's years down the road at the very least — I will be there on opening night, happy to see what got made. But unlike a big-screen version of characters defined with broad strokes and a few zillion plotlines to mine (see: any superhero movie), a story with a beginning, middle, and end is far more likely to end up significantly changed². I'm cautiously optimistic, and overwhelmingly glad that the movie version won't ever cause the print copy to disappear from my bookshelf.

In about eight hours, we'll find out exactly how huge a success the Exploding Kittens Kickstarter has been. As of this writing, they are probably going to cross the US$8 million mark in the next hour, and are about 500 backers from the 200,000 threshold. To put those numbers in perspective no wait scratch that, in the time I took to write that sentence things have changed. Literally in the two minutes that I looked away from the campaign page, the funding level jumped by about US$40,000 and the backer level by more than 800. They're now over eight actual megabucks and 200K backers.

To again attempt to put that in perspective, Exploding Kittens has the #4 all-time highest funds raised record on Kickstarter (and it's not inconceivable it might raise the US$600K to become #3) and is by far the most-backed project ever. Right now, Exploding Kittens has eclipsed the Reading Rainbow (formerly #1) backer count by not quite 95,000 people, and has an even shot of outright doubling the onetime record.

Here's hoping that whole West Coast port-worker slowdown thing is resolved by the time that Exploding Kittens gets put on a container ship (I am presuming it will be printed in China, but with this kind of money, stateside manufacture might actually be economically possible), because otherwise a few hundred thousand pissed-off nerds are gonna be looking for some longshoremen and stevedores to beat up until their rewards fall out.
---
Spam of the day:
Oprah prevents carbs
I'm speechless. Who knew that Oprah could operate at a metabolic level?
______________
¹ The good one. Also, sadly, the sequel which was … yeesh, not good.
² Please, and I say this as somebody who enjoys his movies for what they are, don't let Peter Jackson anywhere near The Sculptor.