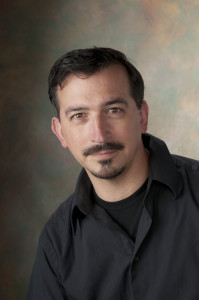 So what you don't know is that yesterday, Fleen's back end was acting the hell up. Some combination of MySQL and WordPress decided it just really didn't like the post I was working on, and it fought me at every turn. And by fought me I mean ten minutes to save a draft and spontaneously stop responding and lose all the changes. Today, by contrast, is running perfectly smooth and normal, which I can only attribute to the prevalence of Brad Guigar in today's post; around Brad, comics spontaneously behave.
Brad! We're a couple of days late, but we at Fleen would be remiss if we didn't note that this past weekend, Brad Guigar marked his fifteenth anniversary of daily cartooning, having produced a total of:
1,471 Greystone Inn comic strips, 2,943* Evil Incs 410 Courting Disasters and 95 Phables. (And 163* Tales from the Con comics, which I write for Emerald City Comicon.) (emphasis original)
Or a bit more than 5000, if you're into aggregates. Oh also three books on cartooning, an Eisner nomination, and a couple hundred hours of at least four different podcasts, a school full of students that will kill and destroy in his name revere him as a mentor, and the most infamous laugh in history. Not bad for such a young guy.
Brad! So where do you go after accomplishing all that? You go to the place where you launch two more comics, because of course you do. Previously available only to supporters of his Patreon (who still get first dibs), everybody can now read Arch Bros (based on his sons, one of whom thinks he's a superhero, and the other thinks he's a supervillain) and single-panel gag comics/sketches at the revamped Guigar.com, which also serves as your source for All Things Brad.
Brad! Guigar's also a tastemaker and trendsetter. Case in point — his new colorist Alex Heberling, who's been knocking it out of the park with her work on Evil, Inc these past few weeks. Please don't misinterpret me and ascribe her success and skill to Guigar, but let's acknowledge that the guy has an eye for talent and that paying gig is only helping Heberling in terms of career and public profile. Oh, and in case you weren't paying attention when Guigar was telling you, Heberling's Kickstarter campaign for the first print collection of her webcomic, The Hues, is about to end. You've got about two hours to get in on it.
Brad! So we talked about what Gumroad is doing for its clients in re: VATMOSS last week. But it's simply not enough for Brad Guigar to point out what one company is doing … he went out and figured out the responses of seven different delivery vendors to the VATMOSS challenge, letting you know who's doing a good job and who isn't. The report is behind the subscription wall at Webcomics Dot Com, but I don't think it's a spoiler to say that Guigar found Gumroad's response as impressive as I did. You'll have to purchase access to determine who else is doing well and who isn't, but if you hope to sell e-goods to the EU, the US$5 month's trial is a pretty good deal.
Curiously, not Brad! Yes, even on a Bradarrific day, there will be some news that's not Guigar-related. Today, that would be the announcement of the first tranche of special guests at this year's TCAF, a list which includes Charles Burns, Eleanor Davis, Gurihiru, Lucy Knisley, Scott McCloud, Barbara Stok, Jillian Tamaki, and Chip Zdarsky. Keep in mind that about 300 more creators from around the world will be at TCAF, a list of which will be found here.
---
Spam of the day:
I got an Appletini and the hubby coffee.
Of all the things that I have no interest in, alleged weight-loss tips from R-----l R-y is at the very top of the list.