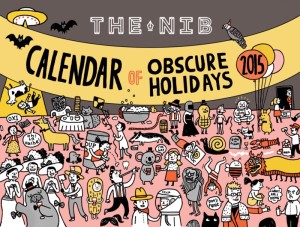 It's a good time to be Matt Bors. His plans for The Nib keep expanding, and he's got a talk coming up at the Cartoon Arts Museum that those of you in the Bay Area may be interested in. Let's get specific.
On the Nib front, I've been very impressed with the breadth of talent, frequency of updates, and reach that Bors has achieved in the not quite eighteen months since he took the reins in September of 2013. Best of all, he's got a budget and he's not afraid to use it; paying gigs for cartoonists are pretty sparse on the ground outside of The New Yorker, so having another place for both recurring and occasional contributors is heartening.
Speaking of which, Bors mentioned some shifts to the lineup the other day; nothing earth-shattering, we get R Stevens on Thursdays and Gemma Correll (whose work I didn't know before she started placing cartoons at The Nib, and who is simply terrific) on Mondays now. Tom Tomorrow, Ruben Bolling, Jen Sorensen and Erika Moen shift around as well (to Tuesdays, Thursdays, Wednesdays, and Wednesdays, respectively). Kate Leth will now be chiming in monthly, and he's ramped up the cartoon journalism, with a half-dozen longer pieces in the pipeline this month alone.
And speaking of "monthly" and "months", the Nib-produced Calendar of Obscure Holidays may have sold exclusively via pre-order but Bors has you covered. Go here for the first two months of the year (January and National Fetish Day is by Erika Moen; February and National Shut-In Visitation Day is by Matt Lubchansky), with the promise of more as the year progresses.
Finally, Bors will be part of a panel discussion (with the aforementioned Bolling, Tomorrow, and Mark Fiore) at CAM one week from today, 19 February 2015, from 7:00pm to 9:00pm. It's in conjunction with CAM's current showcase on political cartooning, Slinging Satire, and will cost you five measly bucks¹ (free for members), so get on that if you're in San Francisco next Thursday.
---
Spam of the day:
Olha, eu não vou discutir com você.
I am sorry, I do not speak Portuguese, so perhaps your attempts at selling things I don't want would be better made elsewhere.
_______________
¹ It's a figure of speech. Please, no actual measles-infected fivers and vaccinate your damn kids you anti-science freaks.