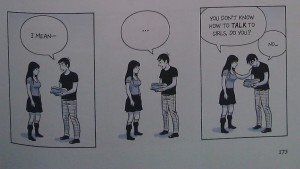 Couple of stories that just won't die today.
Welp, everybody is still talking about Scott McCloud today (not that that's any surprise), and lots of people have been talking to McCloud, but I doubt that Scott enjoyed any of those interviews as much as the one that went live at Playboy (mostly SFW, surprisingly) since it was conducted by his wife/muse, Ivy Ratafia. It's a great read and gives you an idea just how damn in love these two crazy kids are.

I'm going to quote my favorite part — Ivy has asked Scott to describe the character of Meg, who is about 70% Ivy and then follows up with what could be a marriage-killer of a question:

IVY: And now the reciprocal. You have to describe me.
SCOTT: You're shorter than she is, probably by a good four inches —
IVY: Haha! Okay, I'm going to interrupt you here, because the question I wanted to ask was, why is Meg taller than me?
SCOTT: Because when I have the two of them in frame I can't do the same kind of physical theater without pulling back the camera. I can't do close-ups of the two of them talking. If I was a better cartoonist; if I was smart enough and practiced enough to get interesting compositions out of the height difference; maybe it could've worked. But, I'm just not good enough. So I made her only a half-head shorter.

IVY: This really bothers me.
SCOTT: I know!
IVY: Short people unite! We have problems!
SCOTT: I know, I know. We should be celebrating shortness. But no, I didn't have the chops for it because I was still teaching myself how to be a better figure artist. So the real answer is because I suck. Is that okay?

For the record, Scott does not suck. Also for the record, I picked up a copy of The Sculptor in hardcover and the spot color used throughout (Pantone 653, in case you were wondering) is a bit darker than that used in the advanced review copies, and it does give everything a bit more structure and depth. Also, the page numbering is different by two, in case you weren't fascinated enough by the minutiae of publication details.

Following up on yesterday's discussion of the newly-gamified Exploding Kittens Kickstarter, some rules have been posted to determine which photos of various things will count towards the achievements. Notably, the hashtag #update9 needs to be in the photo (along with the text of the tweet, along with the hashtage #explodingkittens, so everybody with old pics of themselves with goats, sorry.

Likewise, there have been a couple of photos posted of people with cat ears, but the requirement is that a single photo contain 10 (or 50, or 100) people wearing cat ears. Solos don't cut it here. On the "plus" side at least two of the requisite five photos involving weaponized back hair¹ have been posted so that's all … well, it's not right, but it's something.
---
Spam of the day:
https://bft.usu.edu/[redacted]
Hmmm, your message consists solely of a link. usu.edu is Utah State University, and it appears that the bft stands for Big File Transfer. So somebody's using the academic site to distribute who knows what? I'ma pass on clicking that one, Bunky. You understand.
_______________
¹ Insert that mumbling, horrified noise that Sideshow Bob makes just after getting smacked with a rake.