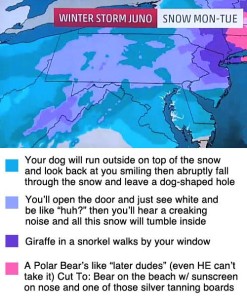 You're not helping! And I don't want to be in the giraffe zone!
So, since the storm bearing down on me (and everybody else in the Greater New York City mediasphere, and all points twixt there and Boston) looks to be a doozy, I may or may not be able to post tomorrow. Wednesday may be out as well, as I have to spend most of the day on planes, assuming planes are still a thing after this winter joy goes through. Thursday and Friday, all day work meetings, meaning that posting may or may not happen. How's your day going?
Actually, mine isn't that bad, considering I'm looking at between 45 and 60 cm of snow landing on me over the next 30 hours or so, not the least because I saw something on Twitter earlier today that made my heart go thumpa¹ — a new Perry Bible Fellowship strip! More than that, it's the first of six new strips this week, proving that Nicholas Gurewitch loves us more than the fickle weather gods. I should note that Christopher Butcher also loves us, as he was the one that pointed me towards the Gurewitch tweet. Excellent dudes, both of them.
You know where they definitely won't be getting 45 – 60 cm of snow in the next 30 hours or so? Sydney. In fact, judging from the internet communiques of David Morgan-Mar (PhD, LEGO®©™etc), his corner of New South Wales², 'Straya is suffering from record-breaking heat and never really sees snow anyway. Nevertheless, he has reached out from his (definitely not going to die-in-a-snowdrift) home to gift us with a new webcomic, 'cause why not, it's been since April since he launched one anyway:


And here it is, a brand new non-Alaskan non-furry non-paintball daily dinosaur webcomic, officially approved by Ryan North himself!
The Dinosaur Whiteboard.

With the assistance of a Dinosaur Comics ALERT DANTE SHEPHERD SKIP TO THE NEXT LINE TO AVOID COGNITIVE OFFENSE dry-erase whiteboard IT'S OKAY TO READ AGAIN DANTE, Morgan-Mar has added yet another comic to the mezzacotta family of laugh-chuckles, a site that has an archive of approximately 9526 + ∞ updates³. Morgan-Mar and his creative cohorts have been busy and have thoughtfully supplied you with enough free comics to wait out even the longest blizzard.
---
Spam of the day:
Hello, i read your blog occasionally and i own a similar one and i was just wondering if you get a lot of spam responses?
Why would you think I get a lot of spam?
_______________
¹ I can't be the only person that misremembers the lyrics to One Night In Bangkok like this.
² Not to be confused with Jimmy "Jimbo" Wales, either real or fictional. One is a lovely spot that I greatly enjoyed visiting with my wife a dozen years back, and the other is a dude on the internet.
³ Irregular Webcomic: 3368 updates; Darths & Droids: 1149; Planet of Hats: 35; Square Root of Minus Garfield: 2078; Lightning Made Of Owls: 668; Comments on a Postcard: 2212; Awkward Fumbles: 15; The Dinosaur Whiteboard: 1; mezzacotta: infinity.