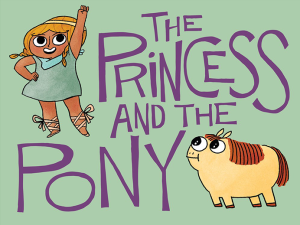 AHHHHHHHH!
I can't tell you how long I've been waiting for … no, wait, that's wrong. I can tell you how long I've been waiting for Kate Beaton's children's book starring the Pony. She announced it at NYCC in October of 2013, so I've been waiting to hear more about this for 15 months, and now we know the deal:
Coming in June with Scholastic, The Princess and the Pony is a picture book featuring one of the most enduring characters I have ever drawn, that roly-poly pony. Here's an interview I did about it with Wired, ages ago when I started working on it. Good for kids, good for ponies, good for pony lovers (everybody)!
Beaton also talks about Step Aside, Pops, first announced earlier this week, and far be it from me to not give that book its due, but Pony. Pony, Pony, Pony, Pony, PONY!
PS: Pony.
---
Spam of the day:
I've be mindful your stuff previous to and you're just extremely excellent.
I'm certain this is the result of five or six trips through a computer-based translator; surely no human actually constructed that sentence.