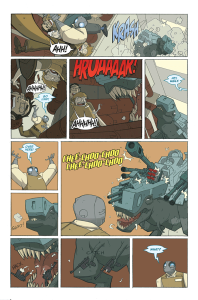 Let's get the bad news out of the way right away.
Christopher Baldwin's One Way recently wrapped, and as noted at the time, launched a Kickstarter to collect the story in print. Baldwin, of course, is well known as the webcomicker behind the funny and tragic Spacetrawler, the heartfelt and wonderful Little Dee, and the long-running and groundbreaking Bruno; he's got the reputation of creating successful work and quality books.

So why in the hell is his Kickstarter less than half a day out from completion and barely over 50% of goal? Granted, One Way ended on a melancholy note (though one we'd been primed for from the very beginning), but so did Little Dee, and Bruno was nothing but ups and downs. Maybe because One Way ran for just about exactly a year, and we didn't have the time to get as emotionally invested in the characters? Maybe because none the characters in One Way were what you'd call sympathetic? Really, they were all terrible — but that was a bit part of what made them compelling. Honestly, this is a travesty and you've got a bit more than eight hours to make it right.
It's better news from here on.
Raina Telgemeier gets so much press (not sure who provides all of that, certainly nobody we know here at Fleen) that sometimes it's easy to forget that her husband is just as accomplished in comics as she is. Dave Roman and his longtime creative partner John Green announced the latest entry in the Teen Boat¹ series of comics/graphic novels has a cover. Look for Teen Boat! The Race For Boatlantis in October wherever comics, books, or boats are sold.
As noted about ten days ago, Erika Moen and Matt Nolan did everybody considering a crowdsourcing campaign a tremendous favor by releasing a detailed Numberwang on their experiences with the first OJST print volume Kickstart. Nolan's back with more information that explains just how a webcomic about sex toys can support two adults, which I would sum up in one word: diversification.

It's a fascinating read for anybody that wants to make comics their livelihood, but I urge you to keep a sense of reality as you do. Moen spent a decade on earlier comicking projects and a good nine months on OJST before launching her Patreon; without that loyal following and proven ability to produce quality comics, she could not have gotten support in excess of US$1000/comic. Remember: you've got to show people that you're good enough to give money to before you can expect them to give you money.

From George², busiest man in webcomics, as part of one of his myriad jobs (in this case with the doing-well-by-doing-good anarchosyndicate known as Breadpig) comes news of a shift to webcomics. Specifically, the critically-lauded (but curiously not chart-topping, because people don't know how good it is I guess) Atomic Robo is getting ready to serialize its first nine volumes of stories online, leading up to the debut of volume 10 later this year. For those that haven't been keeping up Atomic Robo is the brainchild of Brian Clevinger and Scott Wegener, and this release the back catalog online approach is the same one used by such creator-owned stalwarts as Jim Zub and the Foglios.

For those that haven't followed the earlier stories, Zub has credited the online serialization of Skullkickers with driving convention sales of print collections and Girl Genius started as dead-tree quarterly comics, a model which proved to be economically nonviable, prompting the shift to online distribution of the back-catalog, then eventually all new story pages. Going forward, AR will follow the Girl Genius model of web-first, as opposed to the Skullkickers model of print issue first.

What's a bit unique about AR's shift to the web is how it's going online: the entirety of Atomic Robo volume 1 will be released on 21 January, followed by a full issue each Monday, Wednesday, and Friday. We're going to see more than 1000 pages hit in short order, the better to get everybody up to speed for the debut of volume 10 this summer. To make sure that Clevinger, Wegener, et. al. actually get some value from this massive act of sharing, they're going to be part of the Hiveworks family, where you'll find approximately every webcomic and its dog.

Plus, y'know, Atomic Robo has dinosaur mad scientists creating weapon-bedecked cyborg T. rexes, which can only be good.
---
Spam of the day:
Both men and woman have been using perfumes for over 4,000 years.
That's almost as long as they've been using knives. THESE KNIVES!
________________
¹ This is the obligatory reminder to never do a Google image search on any string including the word "teen" unless Safe Search is as on as it possibly can be.
² Who, in accordance with the Fleen Manual of Style, is only ever referred to by his first name