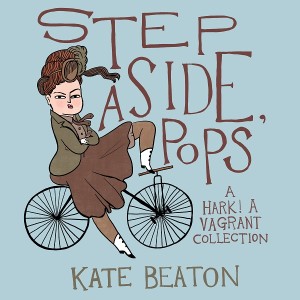 We'll talk about what webcomickers are up to in a moment, but first I want to address an email I got about 20 minutes ago (as I write the first draft of this). It appears that Emerald City Comicon has been bought out by ReedPOP, showrunners of New York Comic Con, the PAX family of shows, C2E2, and more high-draw conventions dealing with everything from Star Wars to sweaty dick punching.
ECCC has had a reputation for a few things — extremely rapid growth, and the personal touch of show founder Jim Demonakos, who's kept the focus of the show squarely on the comics side of the equation. Put bluntly, there are not a lot of big "comics" shows (and EmCity is going to be somewhere in the 70 – 80K attendance range this year) that don't actually focus on TV, movies, wrestling, or other aspects of nerd culture.
It can't be easy running a show that big, and I have no reason to criticize Demonakos for turning to ReedPOP to provide showrunning services; I only hope (and it's not clear from the press release I received) that the team and focus that were developed under Demonakos are retained. I know a lot of webcomickers that look to ECCC as one of their best shows of the year, and if it goes the way of NYCC and C2E2 (with their far lesser emphasis on the comics end), that would be a hard blow. The full press release is below the cut, so you can read and interpret it for yourself.
KC Green may have wrapped up Gunshow, but he's got plenty of other outlets for his comics, and he added a new one yesterday. US Gamer has added a weekly videogame-themed comic from Green known as Cheats n' Beatums, the first of which you can read here. Maybe. It might be my choice of browser, it might be my choice of security settings, but the comic did not render on the page for me, instead substituting an image placeholder.

Clicking on the placeholder gave me an error in opening a secure connection, but editing the URL from https: to http: did the trick. I'm not sure I would have gone to so much trouble for anybody else, but I got my reward: Green's first Cn'B showed us why Mario always wins … he cheats.

Readers of this page may recall that Kate Beaton is the best. So it was no small amount of happy-making to see her announce this morning that D&Q have announced her next comic collection; Step Aside, Pops will be released in September, and will no doubt put the fear of Victorian-era velocipeditriennes (velocipeditrixes? velocipeditrices?) into the fear of bowler-hatted men everywhere.

For added fun times, Beaton spoke to the Los Angeles Times; I only wish they had asked if any of her Kate-goes-home-to-Nova Scotia-and-we-see-lots-of-her-mom comics (aka momics) will be included. I sure hope so. As I've said in the past — and I stand by this — you could burn down all of San Diego Comic Con and everybody inside, but if we got daily momics it would be a fair trade.
---
Spam of the day:
The 500 Euro note makes it much easier to smuggle cash out of Europe. After the police officer conducted his investigation he informed me that the manager's signature wasn't an original signature.
While I stand second to no man in my appreciation of sweet, sweet, untraceable cash, I think that perhaps you have misapprehended the focus of this blog.
REEDPOP AND EMERALD CITY COMICON JOIN FORCES TO PRODUCE THE 'PREMIER COMIC BOOK AND POP CULTURE CONVENTION IN THE PACIFIC NORTHWEST'

Emerald City Comicon Joins the ReedPOP Family as ReedPOP Continues Rapid Growth as #1 Producer of Comic Conventions Across the Globe
NORWALK, CT — January 13, 2015 – ReedPOP, the world's largest producer of pop culture events, is adding another show to its portfolio with the Emerald City Comicon (ECCC). Today, the company announces that the 'premiere comic book and pop culture convention in the Pacific Northwest' has joined its family of leading experiential fan events. The partnership will take effect for the eagerly anticipated 2015 event taking place March 27-29 in downtown Seattle, Washington.
ECCC, known for being a fan-oriented and comics-focused show, was founded in 2003 by local comics retailer Jim Demonakos and opened to 2,500 fans its first year. Since then, attendance has grown steadily reaching a record 70,000 in 2014 and an expected 80,000 in 2015, with 3-Day already sold out! With new comic and celebrity guests each year, ECCC stands out in the industry as providing a unique experience with heart for fans of all ages. Additionally, ECCC has created a charity art book each year since 2009 — Monsters & Dames — that has raised over $75,000 for Seattle Children's Hospital.
Demonakos had this to say about the partnership, "We are huge fans of what ReedPOP is doing across the globe in this pop culture space and the ECCC team is excited to have them help us elevate the fan experience at our event. We are also very much looking forward to bringing the ECCC brand of fan-focused events to help ReedPOP amplify their conventions even further."
Since ReedPOP's first event in 2006, the sold-out New York Comic Con, the group has sought to produce exceptional experiences for passionate audiences and grow the industries surrounding these passions, and this philosophy has led to burgeoning attendance, the support of major creators and publishers and partnerships with leading entertainment brands including Lucasfilm (Star Wars Celebration), UFC (UFC Fan Expo) and Penny Arcade (PAX).
In recent years, ReedPOP has turned its attention internationally, recognizing pop culture audiences emerging throughout the world, where it has produced once-in-a-lifetime experiences for these new fans and connected exhibitors to these hungry, unexplored markets. ReedPOP's previous global events have been set in London, Germany and Singapore, and the company planted its biggest global flag to date last year in Australia, creating an Australian team to launch PAX Australia and partner with the Oz Comic-Con series of events. ReedPOP's efforts in India were recently announced through a partnership with Comic Con India — with events in Delhi, Mumbai, Bangalore and Hyderabad. The company also added Paris Comic Con into its fold as announced at New York Comic Con.
"The addition of ECCC to the ReedPOP family is a huge win and we couldn't be more excited to see how we can make each other better," said Lance Fensterman, ReedPOP's Global Senior Vice President. "The ECCC team is tremendous and have put together an amazing show. I know there are things we can introduce to the mix and look even more forward to what the ECCC team can bring to all our events around the globe."
For more information on this year's Emerald City Comicon please visit www.emeraldcitycomicon.com.
About ReedPOP:
ReedPOP is a boutique group within Reed Exhibitions exclusively devoted to organising events, launching and acquiring new shows, and partnering with premium brands in the pop culture world. ReedPOP is dedicated to celebrations of popular culture throughout the globe that transcend ordinary events by providing unique access and dynamic personal experiences. The ReedPOP portfolio includes: New York Comic Con (NYCC), Chicago Comic & Entertainment Expo (C2E2), Penny Arcade Expo (PAX) Prime, East, South and Australia, Oz Comic-Con, Comic Con India, Paris Comic Con, Star Wars Celebration and UFC Fan Expo. The staff at ReedPOP is a fan-based group of professionals uniquely qualified to serve those with whom they share a common passion. ReedPOP is focused on bringing its expertise and knowledge to world communities in North America, South America, Europe, Asia, India and Australia. (www.reedpop.com)
ABOUT ECCC:
Built on a fan-first mentality, Emerald City Comicon (ECCC) has established itself as one of North America's largest and most respected shows of its kind. Since 2003, ECCC has continued to cement its reputation in both national and international circles in the industry as the show to be at to kick off the convention season.