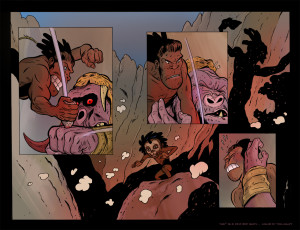 Deadlines are wonderful things — they focus the mind, and anybody that says they don't screw around until the last possible moment before deadline is dangerously self-deluded. I, uh, may have heard that somewhere, not that I'd know. Nope. Not me.
Society of Illustrators and the second iteration of the Comic & Cartoon Art Annual and how the deadline for submission in all categories (several of which track neatly with webcomics) would be (was, now) yesterday. Well, good news, procrastinators! Deadline's been extended to this Friday, 9 January.
As long as we're talking about juried processes involving the comics and cartoon arts, there was this bit from the twitterfeed of National Cartoonists Society president Tom Richmond:


NCS Divisional Reuben Awards Submission Call http://wp.me/pcEqc-4Vo

In other words, time for my annual reminder that webcomics are represented by two awards, long form and short form, and if you want to be considered you should follow that link and decide which category you fall into. One might also note that a number of you reading this may also fall into other categories, particularly the Comic Books (Ryan, Shelli, and Braden ought to really be submitting for Adventure Time, as should Noelle et. al. for Lumberjanes) and Graphic Novels (Box, Emily, Raina, Gene & Sonny, and Kazu, just off the top of my head).

As in past years, I'll be part of Richmond's advisory committee, making sure that the best webcomics don't get overlooked from consideration, so if there's something that you feel I should bring to the membership's attention, let me know. Please note that the deadline for submission is 15 February, which is sooner than you think.

Speaking of the NCS awards, last year's winner for On-Line Comics — Long Form, Jeff Smith¹, has returned from hiatus with the latest chapter of Tüki Save The Humans (that would be number three) kicking off yesterday. Tüki hasn't run as frequently as was originally planned¹, and the site has had growing pains, but you know what? Free Jeff Smith comics delivered to me by magic internet lasers are good under any circumstances.

Oh, right, deadline … deadline … okay, Tüki's been in that fight with Big Ugly there since midway through the last chapter, and I'd say that one or the other one is gonna be dead soon. Considering it's Tüki's book, my money is on Toothless to be the one with his ass on the line.
---
Spam of the day:
Thank you for your helping hand.
You're welcome. I pride myself on being a helpful kind of guy.
_______________
¹ As was explained to me by Cartoon Books publisher and all-around nerd-wrangling badass Vijaya Iyer, Tüki was to run M-W-F for eight weeks, then take two months off, then on to the next chapter. Instead, we're averaging about two chapters a year. Please don't take this as a criticism of Smith and Iyer; I love them both to death, I love the story, and if that's the pace that they can deliver the free webcomic at while maintaining their paying work, then I am happy for it.