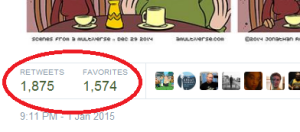 As of right now, I have posted on 100% of the days in 2015; wonder how long I'll keep this up? That being said, it's the Friday after a legal holiday and I know that nobody's on the internet, so let's do a couple of quick items and call it a day.
Okay, so back on Monday, Jon Rosenberg¹ ran this strip on the general topic of forests, trees, and fundamentally missing the point you hopeless man-child. Laugh-chuckles all 'round for his usual readers, and nothing else to say, except that he was apparently feeling much better following his recent surgery, as this level of piss-taking required a bit too much energy during his convalescence. Come Wednesday, there's a new strip on the theme of the new year, and all is still well. Yay for finishing up an absolute kidney stone of a year!

But.

Mid-afternoon on Wednesday is when the technical issues began, as well as people contacting Rosenberg to tell him why his site was down, leading to much contrition on Rosenberg's part. Weird thing, though — the comic that apparently caused so much drama was available via other channels and far from impairing Rosenberg, the attempt at punishing him for the crime of … I'm not sure what, exactly … instead brought him to the attention of far more people than usual. So, congrats nameless self-styled internet vengeance-dealer, you kept everybody from seeing Jon's work ever again, jorb well done.

Rich Stevens, I've long suspected, enjoys making sudden changes to his website and store more than he enjoys making money, with the latest proof being that he's put into effect a flash sale that effectively chops prices on rare items in half:


Let's start the year off right! All hardcover books on my site are just $20.15 this weekend. http://store.dieselsweeties.com/collections/limited-edition-hardcover-books …

For reference, the softcover versions of the Oni collections list for US$19.99 and the hardcovers for US$40, so this sale is like getting an upgrade from softcover to hard for sixteen cents. Heck, he's even offering signed/personalized books for no extra charge. Take advantage while you can.

Okay, didn't see this one turning out this way; about six weeks back I noted that Kel McDonald was Kickstarting the first friggin' huge volume of an omnibus edition of Sorcery 101 for the absurdly low target of US$22,000 (it's a 750 page book, in color), with an absurdly low get-the-physical-book reward tier of US$30. McDonald has had five successful Kickstarts before, with targets ranging from US$3000 to US$20,000, and while she has had past campaigns hit goal late in the game, we are six days out and still 16% shy on funding.

As of right now, Kicktraq show her topping out at 95% of goal which is frankly baffling to me. Folks. Kel McDonald does things right. She puts together anthologies that attract top-notch talent. She produces quality work for publishers as well as self-publishing. She delivers on her Kickstart promises. So what the heck? Six days, people, let's make this happen.
---
Spam of the day:
After many years in the making, the whole world third largest shopping mall, Meadowlands Xanadu will probably be indulging every person's fantasies.The much-awaited opening during the summer of 2009 is determined to attract various shoppers, gawkers, artists, sports enthusiasts, and useful seekers.Don't you want to be where there on freedom day?
Speaking as a resident of New Jersey, please tell me where your time machine is that you are looking forward to the triumphant opening of this colossal boondoggle in the far-flung optimistic future of 2009. I'd like to borrow it to go back in time and give myself some stock tips and lottery numbers.
________________
¹ Obligatory disclaimer: Jon is the guy who got me to start up this here blog, conspiring with me for a good six months pre-launch, and who also owns my soul as the result of a perfectly legal cash transaction.