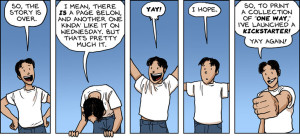 Not that I don't love all you people — I do! — but taking some time off while toute les bandes dessinées web are slow to update, or running filler, or just enjoying meals with their families has been wonderful. I imagine it will be another slow week around these parts, and probably next Monday before we're back to a full update schedule.
---
Spam of the day:
"Nothing about being a celebrity is desirable," she said.
Tell me about it — nothing but groupies, fame, fortune, hookers, and smack all day long. It's exhausting.
________________
¹ In the very best sense of those words.
² What the heck? A McCloud with no internet presence? Weirrrrrd.
³ Okay, mine is stainless and is the non-union Mexican equivalent, but the meaning is the same.