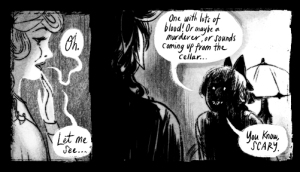 Holidays of all sorts — Alliday, even — are bearing down upon us with all rapidity. Let this, then, serve as your notice that until after the New Year, there may not be updates five days a week, as a dearth of news and family time occur in equal measure. So before we let you all get to all the last-minute tasks, let's do a roundup.
New Emily Carroll comic, for the Christmas season! And in case you were wondering if the season would perhaps prompt something jolly, or even cheerful, let me quote from a perfectly ordinary young lady right at the beginning:


My grandpa says they used to tell ghost stories before Christmas. I'd much prefer a scary story than a bunch of grown-ups standing around…. One with lots of blood! Or maybe a murderer, or sounds coming up from the cellar….

You know, SCARY.

This being an Emily Carroll story, one should be very careful what one wishes for, particularly when one realizes that of the two young ladies in this tale (the one asking for the story, and the one telling it) is somebody we've met before. Go pull your copy of Through The Woods off the shelf — and if you don't have a copy, what's wrong wit you go get one right goddamn now — and check out the last story. The Nesting Place was, for me, the most disturbing of the five stories in TTW, for reasons given at that last link, and it's retroactively become even spookier now that we see in All Along The Wall just how the creepy things (even in modern times) are willing to play the long game and be patient.

Very patient. Build up that Yule fire nice and high, and hope that the scuttling things don't like the light.

Along with all the heartache going on in Bedford, Texas one must note that today is significant over at Something*Positive for other reasons. Thirteen years ago, Randy Milholland launched with a strip that implied the humor of cruelty would be a major motif, and very nearly immediately settled into a somewhat more restrained sarcasm.

But within a few months (perhaps about the time that Choo-Choo Bear first showed up) the first stirrings of heart and deep character were making themselves known. The strip that ran a year on was as far removed from the first as could be imagined and that was it — Something*Positive as we knew it was in full force. Happy Strippiversary, Randy; here's to many more.

Not sure how I missed this until less than two days before it finalizes, but there's a Kickstarter campaign to make action figures out of old, old, old superheroes¹, including The Green Turtle, the public-domain hero that provided the inspiration and protagonist for Gene Luen Yang and Sonny liew's The Shadow Hero. As of this writing, they are US$150 from goal, so if this appeals to you even a little now's your proverbial one chance.
Speaking of Gene Luen Yang, one quick note: he's returning to the Avatar: The Last Airbender comic-writing game for a one-shot to be released by Dark Horse on Free Comic Book Day, illustrated by the incomparable Carla Speed McNeil. That's five wonderful things all mixed up together, so start making plans to snag a copy today.
---
Spam of the day:
But even in the event you don't, the truth is, these 5 keys are essential for your survival.
Oh sure, start off like that and then don't tell me what the keys are. Guess I won't be surviving. Dicks.
_______________
¹ Also, as a stretch goal, Mike Allred's Madman, who I'm pretty sure had an action figure about 15 years ago, in the same wave as Matt Wagner's Grendel and Kevin Matchstick. Time flies.