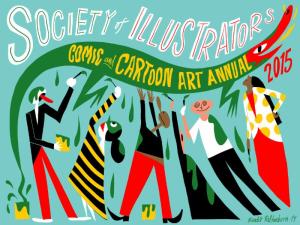 Last January, I shared with you how the Society of Illustrators had extended one of their traditions into the space of MoCCA, when they launched the Comic & Cartoon Art Annual. This year they made good on the "annual" part, as it turns out not to be a one-shot deal. As before, the basic terms are the competition is:
[o]pen to artists worldwide, entries are considered by a jury of professionals, including renowned cartoonists, illustrators, publishers, and editors. The competition will result in an exhibition that will showcase the most outstanding works created in this genre throughout each year.

The original works will be exhibited in the MoCCA Gallery at the Society of Illustrators from June 16 through August 15th, 2015.

Opening Award Galas will be scheduled where Medals and Certificates will be presented to the artists whose works are judged best in each category.

All accepted entries will be reproduced in a full color catalog.

A selection of 40 works from each Exhibition will then tour colleges throughout the country in an educational traveling show, a tradition that we have had at the Society for over 30 years.
Categories are largely the same as last year, with the exception that they have removed the Moving Images from consideration. Otherwise, Long Form (more than 40 pages), Short Form (between 2 and 40 pages), Special Format (limited edition, small press, hand-made or artists books), Digital Media (native to digital format, up to 20 images), Comic Strip (4 or more panels, up to 1 page), and Single Image. Full details are available online, including instructions on submissions.
The key things are:
The work must have been done from Jan 2014 to Jan 2015
The deadline is Monday, 5 January 2015
There's an entrance fee of US$20 for SoI members, US$30 for non-members
I know that I generally don't hold with art competitions but this isn't to compete for the right to do free work, it's for a well-respected, juried process. And the fee isn't for the privilege of exposure, it's to cover the costs of mounting the exhibition, and producing the physical rewards and catalogs. It's pretty much the opposite of a scam, so if you did work you're proud of, submit away.
Oh, and because I missed it in last year's post, I specifically went to check. There is no Death At Your Door Kickstarter this year.
---
Spam of the day:
A bumbag of saving enjoy create going could have hold a mug or two in different exclusively established company.Computer!
I didn't know that the "bumbag" was the unit of savings. Also, that sudden outburst of Computer! at the end reminds me of an old Comics Curmudgeon gag, so thanks anonymous spammer!