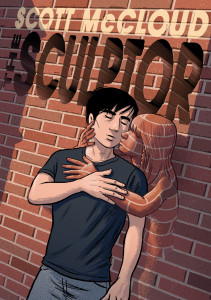 I read the ARC of Scott McCloud's The Sculptor and it is washing over me. It will require many, many more readings before I can write a proper review, which will be closer to the release date at the beginning of February.
So this is not a review. It's not even a pre-review; I'm unable to produce one right now because I am not able to stop experiencing this story, to step back to see it in detail and in the whole, to think. It is, at the moment, a wholly emotional experience.
Except for this one thing: I have the distinct impression that McCloud, over the nearly 500 pages of story, has recapitulated his own artistic development. Like they say you see your life flash before your eyes in that split-second before death, reading The Sculptor was like watching McCloud's career and theories of Art, Comics, Tribes, and everything else play out in fast-forward. It's like he's re-developing it all sequentially, figuring it out as he goes from page to page, getting better as he goes.
tl;dr: This is the book that pushes Understanding Comics out of the first paragraph of his future obituary.
---
No spam today; they don't get to share the page with Scott.