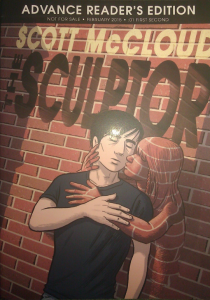 Oh hell of yes. As always, my most profound thanks to Gina Gagliano and everybody at :01 Books.
Colorist watch! In an odd coincidence of timing, two most well-rounded people in webcomics¹ — I speak naturally of Brad Guigar, and Meredith Gran — are looking for colorists for their strips, in the near term. Quoting Gran:


hey dudes I am looking for a colorist! if you are a colorist and would like to color octopus pie for a while, please hmu

my current colorist will be traveling for a bit, hence the opening! this is a paid job. send samples of your work please. punkybird at gmail

oh yeah and I would need you for JANUARY so not right away. ok! that's it! professional

one more time my email is punkybird at gmail. that's how to contact me about the colorist opening. Thanks

And Guigar:

I'm sad because Evil Inc's original colourist, Ed Ryzowski, has been an integral part of my comic for seven years. His work has been nothing short of routinely amazing.

I'm happy because Ed is moving on to do exciting, rewarding work — a creator-owned property (Season of the S.H.A.R.K.S.) that has tons of potential. And if working on Evil Inc helped to speed along that process, then I'm extremely proud to see him launch something like this.

So, starting in January, I'm going to be looking for a new colorist for Evil Inc.

If you think you're qualified to color Evil Inc, please get in touch. (You can also e-mail me using brad (at) evil-inc (dot) com.) My preference would be someone who is familiar with preparing images for print publication (since the comics appear in newspapers as well as the printed graphic novels). This is a paid position.

[Email addressed emphasized in both quotes by me.] To sum — two long-running, acclaimed webcomics, looking for colorists starting next month, for money, not because they are hell-beasts to work for but because their current colorists are off doing things that they will find rewarding. Sounds like a great pair of opportunities.

Best wishes today to Jon Rosenberg and Jerry Holkins, who are both looking at an uncomfortable two weeks or so recovering from surgeries on opposite ends of the hollow tube we call a body cavity. Feel better, gentlemen.
Finally, many thanks today to Maki Naro, for doing the work of Science over at The Nib today. Hopefully, it will counter some of the vast amount of misinformation out there regarding vaccination.
---
Spam of the day:
Kia feature set up his or her modern kind in your Professional player
This reminds me of a joke I heard many years ago on Car Talk:
A boy was walking along the road when a man pulled up next to him in a car and said, "Hey, get in the car and I'll give you some candy." "Get lost." said the kid. "Get in the car and I'll give you twenty dollars." "No. Go away." "Get in the car and I'll give you a puppy." The kid stopped and looked the driver in the eye and said, "Look, Dad, you bought the Kia, you ride in it."
Requiscat in pace, Tommy. We never figured out if you were Click or Clack, but we'll never forget your reading of that story from The Onion.
_______________
¹ One is a serial podcaster, the other is a competitive powerlifter. Together, they fight crime make webcomics, and also teach at the college level.