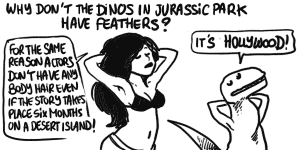 This has nothing to do with webcomics whatsoever, but it's my blog so too damn bad.
After years — decades! — of waiting, season 4 episodes of The Muppet Show exist other than in my memory! Okay, Disney (who bought out Henson Associates, which never would have happened when Jim was alive) hasn't released past season 3 on DVD, damn them, but my twice-yearly trawl of Youtube revealed somebody (and I have no idea if they're authorized or infringing and right now I don't care) has uploaded a goodly chunk of season 4 full episodes.
Including my very favorite backstage gag of all time: How To Fly, from the Lynda Carter episode, where Scooter, Gonzo, Fozzie, Link, and Lew Zealand all try to be superheroes via correspondence course. As a side note, watch the whole thing — no guest was ever more gleeful at being around the Muppets than Lynda Carter. Just watch how she's practically cracking up interacting with Beauregard in the dressing room gag after the news flash. It's a joy to watch. Reezal-eevad-gib!
Where was I? Oh, yes — webcomics.
Well, close to webcomics, at least. Assuming San Francisco doesn't wash away in the current Rainageddon¹, Bay Area parents may be looking for fun activities to engage in with their children during the upcoming school holidays. The Cartoon Art Museum is stepping up with two days of multiple parent/child cartooning classes, available for reservation now. First day is Friday, 26 December and the second is Tuesday, 30 December, with a total of four different 90-minute sessions to choose from.
Each class is US$10 a head (and adults must have a kid to register), on the topics of drawing the Boxtrolls (Friday, 11:30am), clip art comics (Friday, 2:00pm), caricatures (Tuesday, 11:30am), and superheroes (Tuesday, 2:00pm). No more than two ids per adult, please, and follow the links to reserve your place. Oh, and if you sign up for that last one, be sure to draw Lew Zealand with his fish helmet and Gonzo with his chicken helmet. Wonder Lynda would want it that way.
---
Spam of the day:
Pourquoi ne pas combiner les deux passions de votre vie et de devenir un artiste de tatouage? . formation et de persistence pour. Comment.
Myr French is a little rusty — mon français est un peu rouillé — but I'm pretty sure that what you just said has nothing to do with Muppets, Lynda Carter, or any combination of Muppets and Lynda Carter, so I don't give a rat's ass. Rats, by the way, can be found in this backstage gag.
_______________
¹ As opposed to Raina-geddon, Raina Telgemeier's continued domination of the New York Times bestseller list, of which she personally commands 30% and the top two entries this week.