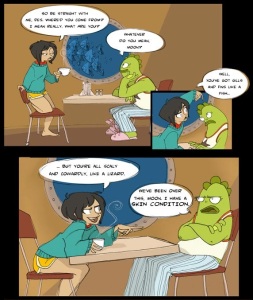 BOOM! Studios, particularly via its all-ages imprint, KaBOOM!, and its creator-owned imprint, BOOM! Box, are grabbing up the best of webcomics talent for various projects — the Adventure Time ongoing, related mini-series, and spinoff graphic novels started the trend, but it's continued with Bravest Warriors, Regular Show, Bee & Puppycat, Capture Creatures, The Amazing World of Gumball, Steven Universe, Midas Flesh, Lumberjanes, and more — I can't keep track of all of the various webcomickers who've drawn checks for work on those books, and that's before you get into the backup stories and such¹. So it's scarcely surprising to see the news that the BOOM! group has found room for one more.
And — my heart! — it involves perhaps my favorite character in all of webcomics.
Starting in March, we'll get a six-issue treatment of Giant Days, being the adventures of Esther de Groot at university², from the fertile mind of John Allison. Even more intriguingly, this will be the first time that Allison specifically writes for another to provide the art, having tapped Lissa Treiman. You may recall Treiman from one of Allison's occasional fan-art events (aka Feats of Strength) from 2008, when she drew positively the finest Desmond Fish-Man known to history.
More than that, I can't think of an artist who better captured the feeling of Allison's characters — he treatment of Moon is a little Vera Brosgol, a little Katie Rice (especially in Skadi-mode), and a whole lot of excellent. Her interpretations of Allison's characters don't look like he drew them, and that's a good thing — she'll bring them to the page in ways that he wouldn't; he's likely (even if only subconsciously) writing to her strengths as an artist. It's going to look great, read great, and give us more Esther, so who could ask for anything further?
Well, I could. Considering the length of the three Giant Days stories we've gotten so far, this miniseries will likely double the size of the canon. Also, if I remember correctly, the existing GD stories scarcely make up the first week of uni; we know that Eshter broke The Boy's heart, we know that years later they are apart, but what happened in the meantime? Here's hoping that Allison and Treiman decide after six issues that they have a hankering to tell more Giant Days stories, because I'm ready to read every single one of them.
---
Spam of the day:
Hi, my name is Sherry and I am the sales manager at StarSEO Marketi
Nope. Stopping you right there, Sherry. Nope, nope, nope.
________________
¹ Or consider that BOOM! owns Archaia, who've published Gunnerkrigg Court and The Devil's Panties.
² Once found online, now only in printed form.