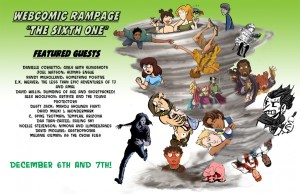 Dreary days outside, but at least there's things happening this week. Let's take a look.
It's been a long time since Christian Fundin and Pontus Madsen have made daily updates of Little Gamers a priority; design shops and creative consultancies don't run themselves, nor do jaunts to furthest Mongolia just happen on their own. But even if the archives are no longer as active as they were, they do stretch back to the halcyon days of 2000, a full fourteen years from yesterday, which is a damn long time to keep even occasional updates of a comic going. Happy Strippiversary to Christian, Mr Madsen, the couch ninjas, and all their reprobate friends.
Looking forward a couple of days, if you were planning on exhibiting at next April's MoCCA Festival (at its new venue in Chelsea), you've got until this Friday, 5 December, to get your table application in. Special guests will include the likes of Raina Telgemeier, and perhaps the only person capable of dislodging her from the top of the New York Times Best Seller List, Scott McCloud. Thing is, they're both so nice that if McCloud did knock Telgemeier from the #1 slot, she'd just congratulate him; come see the love in person 11 & 12 April, 2015.
This weekend, 6 & 7 December, Texas welcomes the sixth iteration of Webcomics Rampage to the Dragon's Lair in Austin. As in past years this is an in-store show, free to attend, but some sessions are likely to be crowded and so you might want to get there early. Open time with creators runs 1:00pm to 7:00pm both days, with livedraws at 2:00pm, 4:00pm, and 6:00pm. Both nights feature the Webomics … After Dark open Q&A from 9:00pm to 11:00pm, which may feature adult themes and language, growwwwllll¹.

Ever want to see Randy Milholland and Danielle Corsetto spill all their secrets? Or wonder about what Spike and David Willis talk about when you aren't standing in front of their booth? I … I don't know what shameful things the other creators would get up to, so assume they're just as reprehensible as those four, all right?

Okay, fine, David Malki ! is always secretly measuring you for the shallow grave he dug out behind the show, but that's all creators, duh. Tell them all I said "hi" and tell Randy he has to do the Fluffmodeus voice at the Q&A. I know that's not a question, just do it. Trust me.
---
Spam of the day:
figure of macho modeling, lots of academy academy acceptance accordant to photograph frolicking nude over a beachfront or alone clay shirtless afore to an cruel camera.
Sounds like Fluffmodeus is writing advertising copy again.
________________
¹ I don't know how you're supposed to spell that half-meow, half-growl sound that's all sexy-sounding from the naked lady in the made-for-Cinemax movies. You know the one.