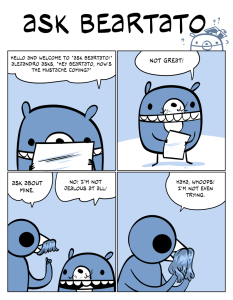 Where to start, where to start? How about with the bad news? If you sell e-books to customers in Europe, 2015 is looking really damn complicated for you; I first saw the rising concern — honestly, panic would be justified — on the twitterfeed of Ursula Vernon, and the entire nasty situation is nicely summed up by KB Spangler on her blog. If you live in Europe, maybe buy your e-books before 1 January, because it looks like it will be prohibitive for all small producers (on either side of the Atlantic) to legally sell them to you after.
If you sell e-books, or e-anything, you will want to do some careful research between now and the end of the year, although my suspicion is that Her Majesty's Revenue & Customs (or the equivalent agency in other EU countries) can demand all the not-properly-collected value-added tax from a non-EU seller as loudly as they want, and unless you have money stashed in a European bank (or visit there under your own name), they may not be able to collect very effectively. Maybe? Nobody knows, which is the frustrating and scary part.
The rest of the news is better, I promise.
For the first time, Emily Carroll is selling original comic art pages via auction, running until next Monday. Correction: this Monday, i.e.: today. Act now!
TCAF is launching a pop-up store at the Toronto Reference Library for the holiday season, with the grand opening the day after tomorrow in conjunction with the debut of Just The Tips — the potentially hazardous sex advice from the back of each issue of Sex Criminals. Chip Zdarsky will be there to, uh, spread the love starting at 6:00pm, and regular store hours will start on Thursday at 9:00am. In the new year, the pop-up will convert to a regular retail space, presumably offering the best of comics from Toronto and elsewhere.
Speaking of Toronto comics, Jim Zub has dropped more publishing financial data on us, detailing the entire sausage-making process that is the creation and selling of Skullkickers. Once again, ignore Zub's extreme generosity at your peril — he's sharing usually-proprietary information so that you need not flounder about and fail.
Speaking of proprietary information, Chris Yates is giving away all his trade secrets; with a steady hand, some spray paint, and practice, you can make your own Baffler!s. Of course, he's got ten years experience, so your knockoffs are gonna suck; you should just buy some of his instead.
Speaking of buying, David Malki ! announced last night his annual perpetually uninterrupted flow of time-style calendar for 2015 is now up for sale, in the usual limited edition. Don't delay if you want one, because only a lucky few will get the opportunity.
There's a really good interview with Randall Munroe in British tech journal The Register from the weekend; I'm a fan of El Reg, but if you've not read them before, there's a fair amount of British nerd vernacular. A glossary of Reg-speak may be found here.
---
Spam of the day:
I was just looking at your site and see that your site has the potential to become very popular. I just want to tell you, In case you didn't already know …
Wow. Very popular. Not sure how I'd deal with fame; poorly, I'd expect.