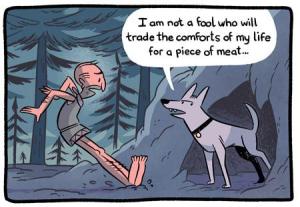 Tomorrow is Thanksgiving Day in the US and I'll be traveling for the most part (the rest, I'll be eating until at risk of bursting). Friday will be spent with family, so maybe don't expect anything here until next week?
In the meantime, some quick givings of thanks:
Thanks to Shelli Paroline and Braden Lamb, for sharing a sneak peek at their forthcoming adaptation of The Thief and the Watchdog. Can't wait until we get to read it.
Thanks to Randy Milholland for not (justifiably) murdering all of the idiots that beset him, and to Jon Rosenberg¹, for largely the same thing. Their birthdays are, respectively, yesterday and tomorrow, which makes me wonder exactly what the heck all the parents of webcomics types were up to back in February — Rosenberg, Milholland, Hallbeck, Spike, Gran, Estrada … all November babies.
Thanks to all the many creators who entertain me daily, for free, on faith that someday I'll buy something from them. I try to get as much as I can.
Thanks most especially to you. You know why.
---
Spam of the day:
?????????????
Beats the heck outta me, Sparky.
________________
¹ Who pushed me to start this here blog, owns my soul, etc.