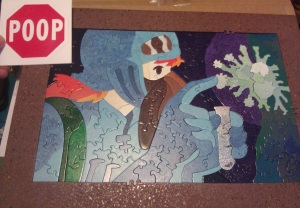 No matter how bad a day may be, I am convinced that Miyazaki Hayao can make things better. I had planned to binge-watch Totoro and Kiki as a means of dealing with the ugliness of the world, and then the world brought more and more Miyazaki to me. At The AV Club, a review of the new Miyazaki¹ documentary, The Kingdom of Dreams and Madness. At The Dissolve² the movie of the week is Spirited Away with an extensive discussion of Miyazaki's ouvre, including the man's belief in overcoming any challenge if we just have a bit of empathy.
Finally, my wife brought in the mail and said You have a package from Chris Yates and I knew that today could not converge on Miyazaki any more — I now count myself as the caretaker for Baffler! #3400, depicting Nausicaä; she struggled against those who would corrupt the world for their own sake, armed mostly with a deep and abiding love of all living things. Not a bad lesson for today.
---
Spam of the day:
I've loaded your blog in 3 different internet browsers and I must say this blog loads a lot quicker then most.
This particular spam went on to shill for vaping accessories; all I have to say about that is if you're gonna vape, at least get some GWAR flavors in there.
________________
¹ Ostensibly, it's about Studio Ghibli, but in practice it's all about Miyazaki.
² Founded by and largely written by former AV Club staffers.