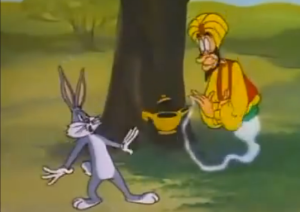 The hotel I'm at has an in-room heating system that sounds like a lawn mower having a tonic-clonic seizure when it cycles off, so I'm short a couple hours of sleep right now. Nevertheless, I have found Things, Things that are worth celebrating today.
The second piece I ever posted at this here thang — goodness, nearly nine years ago! — concerned the output of Lore Sjöberg, whom I have always foudn to be frighteningly cleverfunny and an all-around stellar fellow. So it gives me no little joy to announce that after various problems around hosting/spamming bastards, Sjöberg has resurrected one of his sites, Bad Gods, and you know what that means: I get to gorge on Bandwidth Theater! Rudolph! Overmom! Lousy Transformers! And, of course, the depleted-uranium beholder statue that goes GRAAAGH! Dig in and enjoy, y'all.
It's been perhaps six months since David Morgan-Mar (PhD, LEGO®©™etc) became the first known successful webcomicker to launch a new comic with the express intention of learning to draw. Planet of Hats has reached the end of season one of Star Trek, and he's recapped the 29 installments so far with one panel from each.

It's wonderful watching the art improve — particularly the staging of elements within panels and the expressiveness of the bodies of characters (Morgan-Mar could never have managed the sneaky-sneaky posture in this strip even two months ago), and I hope (as I've expressed to him via email) that when he reaches the end of the 79 episodes of classic Trek, he continues with some particularly stinkeroo episodes of later series. I believe that Planet of the Joggers should do nicely.

Know what's better than a book launch party? A sexy book launch party, such as that which will happen on Sunday, 7 December in Portland to celebrate Hurricane Erika's first collection of Oh Joy, Sex Toy. Free exclusive print! 10% discount on toy purchases! Erika's favorite dear perverts! And on a personal note, I will pay you five American dollars if you go to the party dressed as the Anal Safety Snails. You know you want to.
---
Spam of the day:
Do you know that you can copy content from other websites to your blog and they will pass copyscape test and google will see them as unique?
Yeah, you know who does that? Dudes who suck. Sure as hell ain't my scene.