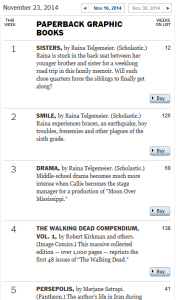 Nothing but people who are making the comics industry great today; it's a good time to be a reader.
I know that you must have seen this already, but damn, I'm mentioning it anyway.

This page has mentioned the New York Times Best Sellers List for paperback graphic novels more than once in recent weeks; we noted the debut of Sisters by Raina Telgemeier and Amulet book six by Kazu Kibuishi on the list, approximately three months back. We also observed with some glee the occasion of Kibuishi and Telgemeier making up a full 50% of the list all by their lonesomes two weeks ago; that phenomenon is still in effect, as Sisters, Amulet book six, Smile, Drama, and Amulet book one are all still on the latest iteration of the NYTBSL.

What's different is the relative positioning of the books.

Specifically, Raina Telgemeier holds the #1, #2, and #3 spots on the 23 November list, released yesterday, ahead of obscure books like The Walking Dead and Persepolis. I don't believe that this feat has ever been achieved by any single author on any portion of the NYTBSL, much less for books with a cumulative 207 weeks of bestsellerdom. Which just leads me to one question — with some three dozen comics-based movies on the release schedule in the next five years, who is going to be first studio exec to be smart enough to drive a dump truck full of money up to Astoria and the front stoop of Ms Telgemeier?

Most of a month back, I noted that BOOM! Studios would be launching a Munchkin tie-in comic, with the omnipresent Jim Zub contributing backup stories for John Kovalic&rsquo's tender art mercies. What I didn't notice at the time (and what's not emphasized even at BOOM!'s own website) was who else is on the book. The non-backup stories will include writing by none other that Tom Siddell of Gunnerkrigg Court, and Kovalic will be joined on art duties by Rian Sygh and Mike Holmes. That's a lot of webcomickers on one book, which shouldn't have surprised me, given that it's from BOOM!. Fleen apologizes to Siddell, Sygh, and Holmes for the delay in recognizing your contributions, and we are now looking forward to Munchkin even more than we were.
---
Spam of the day:
Ofttimes, the word jewellery is related to womenfolk. However, for hundreds of years men have sported some form of jewellery
True story — earlier today, I accidentally purged the spam folder instead of carefully curating which of the latest batch should be held for consideration as Spam of the day. Oh no, I thought to myself, what will I do if I don't get more spam? Turns out, it wasn't really a concern.