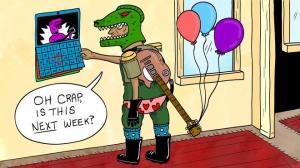 Where to start, where to start? How about in Yorkshire? I love their pudding.
---
Spam of the day:
Get away from the traffic cone orange you envision, and type in the world of tangerine, bronze, burnt orange, gingery undertones and also the calla lily.
Lots of gingers in the UK. Just saying.
________________
¹ As part of their Capture Creatures debut tour.
² She's rapidly become my favorite regular contributor over at The Nib.
³ My evil twin, etc.
4 Didn't take a class and somebody's got no pulse? Call 911, or the appropriate emergency services number wherever you are. Open the shirt, make a fist, put in the center of the chest midway between the nipples. Wrap your other hand around the fist. Lock your elbows and push down hard and fast and don't stop. Substitute somebody else in every two minutes because you're gonna get tired. Now go take a class.
5 Or possibly Erika Moen, Zach Weinersmith, Gemma Correll, Matt Bors, Jen Sorensen, Brian McFadden, Eleri Harris, Andy Warner, Matt Lubchansky, Liza Donnelly, or Scott Bateman.