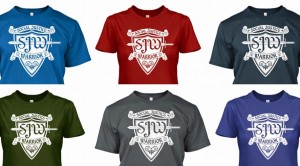 Seriously, three things dropped yesterday that exceed all my wants and desires except for the places reserved in my heart for my wife and dog.
Item the First: Rich Stevens and Danielle Corsetto decided to kibbitz about work into a pair of microphones and it is glorious. Ladies and gentlemens, please enjoy Coffee & Cider, your new favorite podcast.
Item the Second: David Malki !'s comic about a terrible, terrible sea lion has been verbed, and turned into a wearable declaration that you are not a terrible, terrible person, at least for the next six days or so.
Item the Third: Similarly, Chris Hallbeck also has a comment on current events in wearable form, also for the next six days. Gird your loins or whatever else need girding in the shirt that declares your allegiance to opposing terrible, terrible people. Coincidentally, also available for the next six days or so. It would be kind of neat if both of these were such motherscratching runaway successes that they got added to regular merch rotations.
Okay, that's it. Enjoy the crap out of your weekend, and hope you avoid all the terrible, terrible people.
---
Spam of the day:
We are a group of volunteers and opening a new scheme in our community. Your web site provided us with valuable info to work on. You've done an impressive job and our entire community will be thankful to you.
I find your schemes to be insufficient. You may wait outside the Pilgrim's Door.