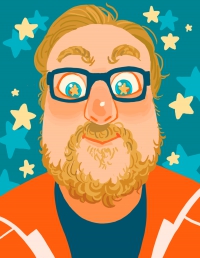 That's webcomics for you: always changing.
The word I always associate with KC Green is fearless.

The first time I met him (at the first Webcomics Weekend), he did a sketch for me¹ by staring at a blank page, picking up a brush-pen, and just drawing. No pencils, no practice passes over the page, no careful assessment of how the ink would be taken up (or not) by the paper … just swish swish swish and fifteen seconds later he was done. It was an act of art performed without a net and I've never forgotten it.

In the years since, he's done a few zillion comics under the banner of Gunshow — loose themes like the two jerk rabbits, one-off rude gags, heartfelt character studies like The Dog's Sins, and longform stories like The Anime Club and Graveyard Quest — and it looks like he's taken that approach as far as he can:

I'm going to stop doing Gunshow at the end of the year. No beating around the bush, right to it. I feel a little lethargic with comics right now so I need a change. So, I'm gonna make that happen. Why the end of the year? Why not. It's the start of a new year! New things need to happen or else it all gets moldy. Plus I have a story with the office workers I want to get out of the way instead of sitting on it forever and never having it used. So two more months of comics will give me time to do that.

But if you stop doing the comic you've built your career around for the past almost-900 updates, you'll need to replace it with something:

I wanna do a monthly comic book about the forest animals from Gunshow. The idea I proposed in an earlier post, "Forest Fwends." I really want to do that, so I'm gonna bug publishers until someone gives in. Why? Why do more print, why do a monthly, print is dead? I agree and yes. But, this is something I've wanted to do for a long time. It may be stupid as hell, but I want to be stupid as hell. I want a dumb monthly comic book with talking animals in it. Maybe I'll succeed. Maybe I won't. Maybe I'll give up and just make it as a webcomic. All I know is I got to try cus I need something else to happen around here.

Fearless. Green's getting (rightfully) acclaim for BACK (with creative partner Anthony Clark) and his adaptation of Pinocchio, as well as his scripts for the Regular Show tie-in comic but none of those are completely his. This monthly comic book — whatever form it takes — will be pure Green, and that's something that comics will always need. However long it lasts, this change is going to let Green take his work to the next level and I for one can't wait to see what he's got cooking.

Kris Straub may be on a hiatus from Broodhollow, but that doesn't mean that he's not busy with a bunch of different things. First teased back in July, we got more details on his five-part comic minieries with Len Peralta and Mikey Neumann, Exterminite. It's going to be an e-comic, and you can pre-order the first issue now in a variety of formats, to be released Halloween week.

No word yet on how long it will be between issues, but when we're talking about a hitman that you can hire to kill your bad dreams, any interval translates to frustratingly long. My guess? We won't be done with Exterminite by the time we get Broodhollow back, so this will fill the Straub-shaped hole in our hearts nicely.
---
Spam of the day:
several grouping up from 3 suits is likely to lead to a clothing fashion a problem,
I think they want me to watch the season finale of Project Runway tonight?
_______________
¹ In my second-favorite themed sketchbook — Beards and Moustaches.