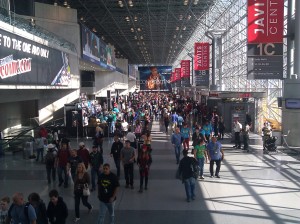 Yes, yes, this was meant to be up over the weekend; life got in the way.
In the (goodness, nine) years that I've been attending New York Comic Con — every show, from the first year with people huddling in the cold and fire marshals not letting vendors back onto the floor — it has changed a lot. The show essentially doubled in floorspace until it took up the entire Javits Center (although that was interrupted for about three years by constructions on the exhibit floor), and then continued to grow as it shifted Artist Alley into the northern annex of the JC two years ago. In essence, NYCC has only been in its final, evolved size for two or three years; with the spate of harassing behavior last year addressed by this year's prominent Cosplay is not Consent policy, one could argue it's only now found its final form.
And that form is a partially comics-realted (primarily in the Artists Alley, which is an excellent comics-only space), mostly pop-culture related, and doesn't have much room for webcomics. There are holdouts here and there, but the years of major webcomics appearing at NYCC gave way to a contingent of local creators gave way to them really only showing up for signings. The next year or two will probably determine if that shift ever shifts back to when webcomickers were more likely to participate, but with SPX and APE in the weeks before NYCC, and Webcomics Rampage a month later, it may be that webcomics has decided to pursue shows that are more suited to their own sensibilities.
To the extent that independent creators persist at the show, it will probably be in the northern annex of the Javits, where the Artists Alley is (as previously noted) spacious, lacking in overwhelming booths and noise that lend claustrophia, and even features a view of the outside world at a couple of points. It's where I ran into Karl Kerschl, Maki Naro, and Jim Zub, and they seemed to be having a good time of it.
I first met Karl Kerschl at NYCC about seven years ago, when The Abominable Charles Christopher was new and he couldn't get people coming by his table to care. Yeah, yeah, great they muttered as they flipped through Flash pages, causing me to be wonder where their brains were. This year, it couldn't have been more different — in the middle of the highly-publicized launch of Gotham Academy and a huge push from DC, Kerschl shared how the fans were coming to talk Charles Christopher and back that up with cash. That's about all I've got left he said on Friday afternoon, pointing to about ten copies each of the two Charles Christopher softcover collections.

He also let me know that the push to get ahead on Gotham Academy means that we won't see him back on Charles Christopher until the first of the year or so — it's the first real hiatus in seven years, but he's got to find new work patterns as he does his first ongoing title since adding two toddlers to his family. He sees a way to get the production on GA to the point that stealing time for Charles Christopher won't impact its quality — even when he's working on comics that aren't all his own, he doesn't want to do less than the best job in the world. In the meantime, he's tossing ideas around in his head, figuring he's got maybe a year of updates needed to wrap up all the storylines in Charles Christopher, which will make for a nice, oversized volume three in 2016.

Making me the world's happiest Kerschl fan, he allowed that he'll be coming back to my favorite storyline (Luga and Sissi Skunk's underhanded dealings) early in the process, and he has ideas about how to wrap up other storylines — the owlet who went off with his crazy uncle, the bird just trying to be a good husband and father, and the rabbity romance that may be his favorite. Oh, and Charles Christopher, Gilgamesh, the malevolent spirit lion, and the end of the world, that too. The fact that the main storyline is just one of the threads speaks to the greatest advantage of Charles Christopher — the obvious love that Kerschl has for all of his characters and the desire to tell their stories properly.

Speaking of meeting people at the NYCC Artists Alley, I first met Maki Naro there last year, and I continue to find him an absolute delight. We traded accounts of officiating weddings (terrifying at first, then awesome), talked about what's involved in working entirely for yourself for a year (a challenge), and what's coming up (some work illustrating a story written by James Ashby, aka History's Greatest Monster).
Pretty sure that the first time I met Jim Zub in person was at NYCC and if it wasn't, I'm keeping with the theme so now it was. Having just wrapped up the Figment¹ limited series for Disney/Marvel, he's just been announced for the tie-in comic for the Ultimate Spider-Man cartoon series. It's not the sort of thing that Marvel usually goes in for (an explicitly for-kids comic), but it is the sort of thing that they go huge for over in Europe, so let's hope that all the kids in Germany, France, and Italy love Zub's work as much as we do, because they're going to be a big part of the equation in keeping the series going.

And because he works for so many different companies on so many different comics, Zub and I always — always — end up talking as we walk from one place to another; I'm not sure we could deal with each other if we had to stand still. He showed me some art for upcoming issues of Wayward and we talked about how Japan (as it is) often doesn't get depicted in Western media (particularly comics) and how he's looking forward to addressing some of that as the story unfolds. Keep an eye on this ambitious young go-getter; I think he might just have a future in comics.
Out on the main show floor, I was able to nod in the direction of Unca Lar and Unca Sohmer, but the crowd around their booth was a bit too thick to penetrate. Similarly, I was able to manage a quick minute or two at the Cyanide & Happiness booth, where Dave, Rob, and Kris never get a respite from their many fans.
The highlight of the center of the show floor was dropping by the :01 Books booth, where I met their new book designer. Colleen AF Venable was a big set of shoes to fill, but after checking out the portfolio of Danielle Ceccolini, I think she'll do just fine. It's got to be a challenge coming in to work on book series that have a look and feel already established², but on the other hand, there will be new books (like the series on teaching coding by Gene Yang and Mike Holmes) where she can make her own mark. Look for the work that Ceccolini's doing now to appear on books about this time next year.
The bulk of my time was at the periphery of the show floor, where Holly Rowland of TopatoCo was reppin' for Welcome to Night Vale and the commerce never entirely stopped. Watching people find Night Vale stuff and smile was a kick to watch; pointing out the sign that said The creators of Night Vale will be signing HERE from 2:00 — 4:00pm and seeing the happiness spread across their faces was a thrill.

Actually watching the younger fans (and from my POV, y'all are youngsters) meet Cecil Baldwin and Dylan Marron and do involuntary jazz hands in front of their mouths while bouncing up and down — absolutely adorable. Baldwin and Marron were lovely gentlemen, taking the time to thank me for helping to wrangle the line until Rowland got more help and to encourage me to feel better (with respect to the cold that I was getting over)³. I"ll even confess that Night Vale isn't a thing that I'm super into, but damn if the creators behind it aren't super quality people.

On the cosplay front, I saw six different Kikis (which struck me as a little unusual, but they looked great), a Kate Bishop Hawkeye that had her arrows arranged so their tips (purple, of course) formed a heart shape in the air like a halo, a Prince Robot IV with a changing video loop, a Strong Bad with The Cheat (The Cheat was not grounded; Mr Strong explained that he was getting over a bad breakup, and so he was brought to the con to cheer up by making fun of nerds), and an astonishingly good Buttercup and Fezzik duo (she was maybe 4'10", so he really did look like a giant next to her). But the best job of cosplay was absolutely the pair of Dr Girlfriend and Dr Mrs The Monarch. Bravo.
---
Spam of the day:
My relatives all the time say that I am killing my time here at net, except I know I am getting experience all the time by reading such good content.
Your relatives are idiots and you should ignore them. Wait, are any of them going to give you money? Maybe pay a little attention to them.
________________
¹ If you run into Zub at any time in the future, ask him to tell you the story about the enormous biker dude that brought the set of Figment issues to an appearance to get them signed. Everybody has something that takes them back their own personal childhood sense of wonder.
² Looking at side-by-side copies of George O'Connor's first six Olympians books, the foil treatments (Zeus's lightning bolt, Aphrodite's golden apple, Persephone's pomegranate, etc) really jump out.
³ No fever, no cough or sneezing, but I steadfastly refused to shake hands with anybody on the show floor; there may be con crud in the world, but I will not be Patient Zero.