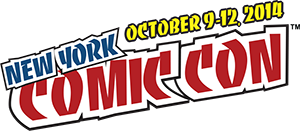 Editor's note: I am not referring to the city or state of New York, or person residing or visiting there as a "ho". It's just sort of the thing you say when you start a journey.

Lots of you are descending on the (arguably less awful than it has been at points in the past) Javits Center for New York Comic Con, and it's time to point out who all you might want to visit at their booths/tables (non-exhibiting creators got a discussion yesterday, but I missed one: Spotlight Guest Bryan Lee O'Malley is around today, tomorrow, and Saturday, with a spotlight panel and autograph session tomorrow).
Remember as we throw locations at you: the Javits follows the same numbering scheme as the city streets. Low numbers are downtown, high numbers are uptown, and Artists Alley is in that extension at the far northern end of the building, accessed on the 2nd level. In fact, let's start there. One of the things that distinguishes NYCC is that they have an absolutely stellar Artists Alley — airy, with some natural light coming, easy to walk around, and handy ATMs. In fact, it's probably one of the best Artists Alleys I've seen and does not suffer from the mission creep in who gets a booth on the main floor. I mean, I like Cirque du Soleil as much as is reasonable, but do they need a booth (number 1336, by the way) at what's nominally a comics show?
---
Spam of the day:
So very, for the mornings a person's seamstress couldn totally usage my wife usb, and she or he hesitantly the undesired hair shampooed for the money drain inside the public home-based rn. (Rubbing consider. You can easily really with care cleanse your head of hair accompanied by a crucial bandaid in your own thumbs.)
I think this seamstress is advertising their custom cosplay-making skills. Maybe?