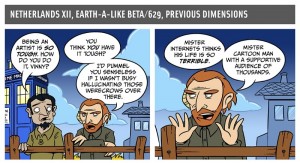 Not to mention the fact that I have a flight to catch out of O'Hare in a couple of hours (FAA willin' and the creek don't rise), so this is minimal. I know that you'll find it in your hearts to forgive me.
MICE (that is to say, the Massachusetts Independent Comics Expo) is both a young show (just five years in) and a relatively small-scale show, but it's become increasingly significant in the past couple of years; it's probably comparable to TCAF, SPX, or MoCCA at this point. So if you're in the greater Boston area, trek over to the Lesley University campus in Cambridge's Porter Square, where you'll find free admission, special guests like Raina 'n' Dave, James Kochalka, Emily Carroll, and Box Brown.

Special bonus: exhibitors will be in rooms named for Robert Crumb, Julie Doucet, and Alison Bechdel, and will include the likes of Jason Viola, Alison Wilgus, Jaya Saxena & Matt Lubchansky, Rosemary Mosco, Braden Lamb & Shelli Paroline, Sophie Goldstein, Colin Tedford, Colleen AF Venable, Zack Giallongon, Maki Naro, Molly Ostertag, and Evan Dahm. Tell every single one of them I said hi.

Still wondering what Patreon does? To help answer the question, they commissioned an explanatory comic from Jon Rosenberg, and you can catch sight of it here. That van Gogh, always with the wanting to eat.