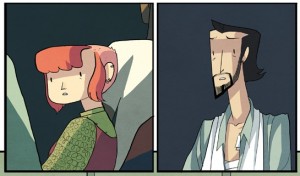 It's not hard to understand Nimona coming to an end, as it did some few hours ago; creator Noelle Stevenson is busy with lots of comics projects these days (not the least being the excellent Lumberjanes), and the story always had a beginning-middle-end feel to it. Still, I would have been perfectly happy for chapter 11 to wrap up a book of the story, if you will, and then for another book to start with a new chapter 1; then again, it's about the story that Stevenson wanted to tell, not the preferences that I may have.

In any event, 250-odd (sometimes very odd) pages is a good run for a story, and we'll always be able to read about the adventures of Nimona and Lord Blackheart, and the ethics of "villainy" from the beginning … or in handy print form from HarperCollins in May, which you may preorder for convenience. Oh, and Stevenson is promising a book-only epilogue and if that's not ongoing adventure, it's the next best thing.

Kickstarter news I: Unshelved has a problem — namely too damn many comics to put in print form easily. Ten books worth already, an eleventh on the way, and vansihing shelf space the world over. In order to make as many comics available to as many people as cheaply and easily as possible, creators Gene Ambaum and Bill Barnes have opted to take the path broken by Diesel Sweeties a few years back and offer the entire damn back catalog on a novelty USB key, presuming all the funding goals get met.

Stretch goals will mean that the to-be-released book eleven gets included in the ebook bundle, audio commentaries get recorded by Barnes & Ambaum, and — most importantly — free copies of (as of this writing, at least two) books are made available to libraries. It's an odd thing, making most of the stretch goals into give more stuff to people that aren't you rather than make the stuff you get more special, but library folk are generous that way.

Kickstarter news II: David Malki ! has almost finished the production of nonphysical rewards for the Machine of Death card game, and has a project megapost detailing what's available now (the audiobook version of the game cards; the game to non-backers via various retail outlets; a downloadable version of the game under a Creative Commons license; new rule variants) and what is yet to come (a downloadable artbook; an MC Frontalot song; an original rules song; various personal appearances) in the culmination of a multi-year project.

Most excitingly for people like me, Malki ! includes an expenses breakdown and a pretty complete financial accounting of what it costs to put together a project like this, which should serve as critical information for anybody that wants to run their own Kickstart. Please note especially where Postage cost just 0.5% less than Game Production, and consider that some of the production involved complex, handmade wooden boxes that must have cost a bundle, without which post fees would probably have been the single largest expense. How big an expense was postage, at 35.9%? Sending two actual humans (Malki ! and Chun Ming Huang) to China and returning them home safely cost less than 1% of the total expenses.

Not quite Kickstarter: As noted in the beforetimes, Operation Let's Build A Goddamned Tesla Museum was only the beginning — a physical site was saved, but millions more would be needed to build up the actual museum itself — a monumental undertaking, even with the real-life Tony Stark on your side. To that end, honorary Tesla family member Matthew Inman is running funding drives for the GDTM in the form of commemorative bricks (as seen at many cultural and educational institutions that do not feature the word Goddamned in the name) and t-shirts (which feature the Tesla Motors logo, by personal dispensation of Elon Musk). It is not too early to do holiday shopping for the nerds in your life, and both shirts and bricks cost a hell of a lot less than Tesla motorcars, just sayin'.
---
Spam of the day:
really not, of course.
PS: Mary I am very sorry if linking to your delightful stories of teaching English in Japan means you have been brought to the attention of garbage-person spammers.