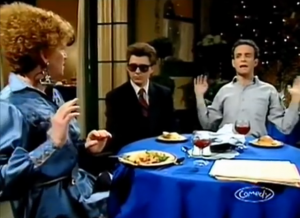 We've got something for everybody today. Let's dig in.
Own a copy of Ryan North's To Be Or Not To Be? Like me, did you think that you'd exhausted all the possible story paths last year? Au contraire, as North has been sharing some semi-walkthroughs of the story, at least one of which leads to a story point that I never encountered in my dozens of readings:


It reads as a joke, but it isn't one: if you do actually perform those calculations at the appropriate time in the book – and you'll know it when you see it – their result will be a new page number to turn too, at which point you'll continue your adventure as both Present Hamlet and Just Arrived From The Future Hamlet.

That's right: time travel. On the other hand, I did come across a story ending that involved the nature of reality itself, and a massive game of chess. Oh, and if you're of a culinary bent, I also came across a tasty recipe, which North is also sharing with you:

You will find yourself in a locked-room puzzle with only a few moves to dispose of the body before being discovered. Direct your choices towards making stew, and in one of the endings you will be rewarded with a really excellent recipe for stew.

Each year, I know that Faith Erin Hicks is going to come up with a new graphic novel that's going to knock my socks off, ranging from summer camp horror to high school intrigue, to scares mixed with a new high school to wacky hijinks involving high school and robots to the not-at-all-high-school-related Adventures of Superhero Girl, and many, many more. And today is her birthday! Everybody wish her a happy one, and encourage her to take at least one day off her breakneck pace of book-creatin' to enjoy herself.
New! Sweet Bro and Hell Of Jeff start a new weeklong story at Paradox Space. Be sure to double up on your sanity meds before you click.
New! After a long series of delays while she worked on other projects (you know, little things like Sleep of Reason and Smut Peddler and running a publishing company), Spike is itchin' to get back to the comic that she made her name on. In fact, a few weeks ago at SPX as I was giving her grief for leaving me hanging on Scip and his swirled cone (April, 2013) and the immediate aftermath (last Christmas), with a shift of scene in January and February she promised that Templar, AZ would be returning this month. With the clock counting down, we saw the news earlier today:


Stream over! TAZ page status: 95% finished, from sketch to colors, in about 10 hours. It'll go up later today. But my wrist hurts, so yeah.

I've been obsessively refreshing my browser and it's not up yet, but soon! I'd also like to remind Spike that I am in Chicago this week and would be very disappointed in person if the page did not go up as promised¹.
---
Spam of the day:
But why don't you consider the narrow people with the loads of diet routine coke, Kraft meals, melted hen, furthermore cookies?
Melted … hen?
_______________
¹ In case you've never met me, that's not a threat of getting physical; I've never met you and I'm pretty sure you could kick my ass. Rather, I would pester her relentless. In the immortal words of Kevin McDonald, I'm a whiner without dignity, I'll make your life hell! [audio, video]