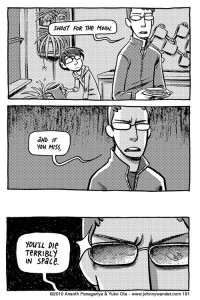 We at Fleen have spoken more than once about (and in this interview, with the key person behind) Make That Thing, the crowdfunding production-and-fulfillment arm of The Topato Corporation. The first part of that descriptor, production-and, is probably the most important, as MTT isn't just a post-Kickstarter merch-shipping service. To quote MTT Supreme Honcho Holly Rowland on staying in a relatively narrow range of projects¹:
We do what we do, and we do it well. We want to stay "on message", so to speak, and not fuck around with video games or whatever because we don't do video games and someone's massively successful Kickstarter doesn't seem like a proper testing ground.
But it appears that after a series of print- and plush-oriented campaigns (including some of the very largest in the publishing/comics category), MTT has branched out a bit. After all, Rowland followed up her previous assertion with:
That is not to say that we won't open ourselves up to it in the future.
Their foray into recorded media started with the Deathmöle album, and now they're partnering on a documentary film that will be chronicling the effort of building the biggest thing ever:
12 men have set foot on the moon, and getting them there cost $25.4 billion dollars. The last moonwalk ended more than 40 years ago. Two men, Michael and David, are dedicating their lives to creating the next great leap for humanity, and they think they can give us permanent access to the moon for less than a billion dollars.
This is what I love about the Topato family of creators — there's always something there that will surprise me. And while watching the process of STRIPPED's production makes me doubt that Shoot The Moon will be finished by Fall 2015³, I would be thrilled to be wrong. Here's hoping they raise the necessary US$37,000 in the coming month and we can all find out together.
As long as we're mentioning crowdfunding, check it out: Stand Still, Stay Silent book 1 has already raised US$34,452 of its anticipated US$25K, with a mere 27 days left to go. Since it's on IndieGoGo and not Kickstarter, I don't have the data to apply the Fleen Funding Formula, but I'd anticipate it finishing in the US$75K (plus or minus) range. Well done, Minna Sundberg, can't wait to read the book next summer (she has to finish drawing chapter 4 for inclusion, then printing, then shipping).
---
Spam of the day: Hello gary! I am looking for a man, i'm 21 y.o. let's talk? My name is Svetlana, I'm from Ukraine.
Hello Svetlana, what is it like in the bridebasket of Europe?
_______________
¹ To quote the MTT website on project scope:
We don't know how to make USB toasters or solar-powered flashlights², so we simply won't take on Hardware, Design, Video Game, or Fashion projects. Other people are better at that than we are. However, the rewards for your project are heavily weighed toward the following:

Printed materials (books, comics, posters)
Printed or embroidered apparel items (T-shirts, polos, neckties, aprons)
Novelties and baubles (stickers, patches, bookmarks, foam swords)
Other things that don't involve inventing a new type of manufacturing apparatus

Then we might be a good fit. (You can take a look at the things we sell at TopatoCo.com for an example of the things we make day in and day out).
² The first time I saw that I read it as solar-powered fleshlights and thought Oh man, Erika Moen's got to get her logo on those.
³ The target date as described on the KS page; to quote their Risks and Challenges:
We've been around the video production block many times, but this is the first feature-length production we've done. It's possible we may face delays when perfecting special effects, the score and editing, but we think any extra time spent will make for a better film. Plus, once we've got the movie done, sending it out digitally will be a breeze. [emphasis mine]
Utterly no disrespect to the STM team, but a year seems a very short time to tackle the project and I hope they don't kill themselves in the making.