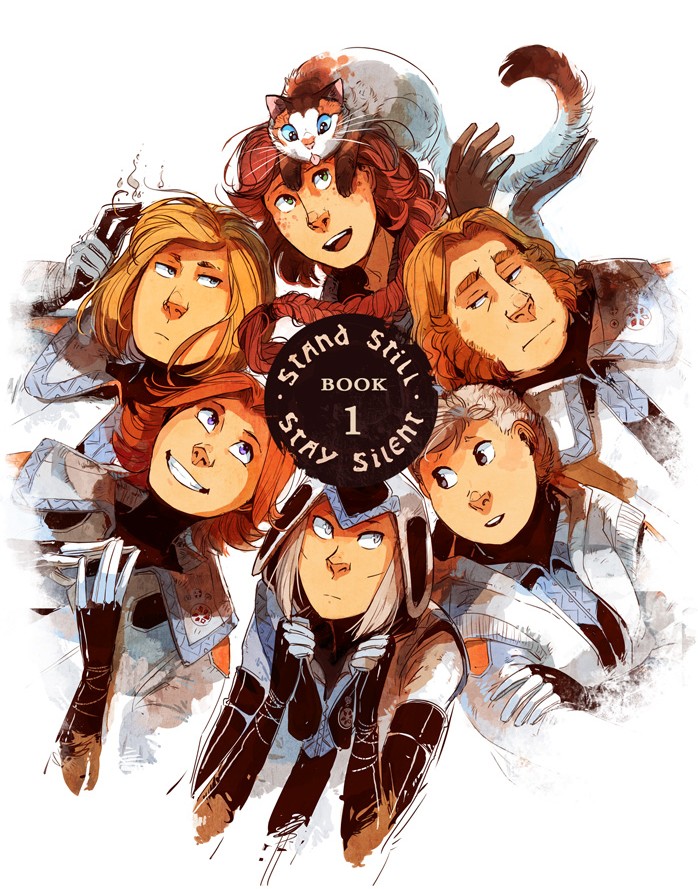 Let's just assume I wrote something cool and erudite about each of these.
Stand Still, Stay Still print drive went live yesterday, and you can get a copy of SSSS in beautiful hardcover (judging from my copy of A Red Tail's Dream) for US$55, shipped anywhere in the world. The usual premiums apply for signed bookplates/sketches (cats only, but cats are very important in SSSS), and what the heck — full color, hardcover, nearly 300 pages, and Minna Sundberg has proven her ability to ship and deliver. Get in on this before the IndieGoGo campaign closes on 21 October.
My evil twin is celebrating 10 years as a self-employed cartoonist with an AMA on one of the less scum-and-villainy-oriented corners of Reddit tomorrow. I'll be working, so somebody ask him if Howard ever feels the urge to be the good twin for a while.
So matter of fact as to almost be missed over at Questionable Content:


I am launching a new comic this Thursday

Presumably, this is the new comic promised in the third milestone goal of Jeph Jacques's Patreon and holy crap he's on the verge of achieving the fifth milestone goal. Good for you, Jeph, and can't wait to see the new strip.

New Dresden Codak, the first in two months. Aaron Diaz has been pretty absent from social media for some weeks now, and he tells us why:


Sorry for the radio silence for so long. I'd been kind of not dealing with anxiety and depression for the better part of a year, and it reached a breaking point last month. I'm doing well now, but all this has necessitated a limited use of the internet for a while. For the next few months I won't be available much through social media, so if you need to contact me, please email me at dresdencodak [at] gmail [dottity-dot] com. If you don't follow me on Twitter or Tumblr, you won't notice any difference, as I'll still be updating the comic as always! I'll also be posting sketches and little content updates on the Patreon blog.

I've said it before and I'll say it again — depression sucks the life right out of you and good for Diaz finding a way to deal with it; it appears that Diaz's coping mechanisms must including lots and lots of drawing, because he hadn't shared much of his usual in-process drawings when he went dark some weeks back. Oh, and as you may have noticed from the quote above, he's opened up a Patreon, so check that out.
---
Spam of the day:
Wow that was unusual. I just wrote an really long comment but after I clicked submit my comment didn't show up. Grrrr … well I'm not writing all that over again. Anyhow, just wanted to say fantastic blog!
Yeah, that sucks. Also, nice spam links.