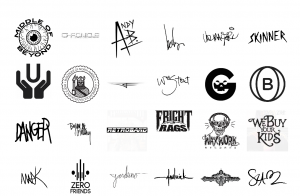 Maybe it's everybody getting back into the swing of things after SPX and XOXO Fest last weekend. Maybe it's everybody trekking to Austin for MondoCon¹ (where one may find Bryan Lee O'Malley, Scott C, and Becky & Frank) or to Portland (they just had XOXO last weekend) for Rose City Comic Con (where one may find Scott Kurtz, Dylan Meconis, Erika Moen, Ethan Nicolle, and the ubiquitous Jim Zub).
Or, to be more precise, those people listed around Rose City are merely the webcomickers who are special guests of the show. Wecomicky exhibitors will also include Christopher Baldwin, Jennie Breeden, Evan Dahm, Sam Logan, Tavis Maiden, Kel McDonald, Bill Mudron, and the various members of Periscope Studio. No doubt others are attending but not listed by their individual names, what with both Dark Horse and Oni being local to Portland, and the Pacific Northwest in general having such an embarrassment of riches in the depth of its cartooning talent.
Speaking of Dylan Meconis, did you see that today's update of Family Man was the last page of Chapter 3 and consequently the last page of what will be the second print collection? My copy of the first volume has been sitting lonely on my shelf for four years, and it is thus thrilling news to me that Meconis took the opportunity to announce:


[M]y traditional short break from page updates to start pulling together the print volume. In the meantime, I'll update with notes on past pages every Friday. If you'd like to know more about something in particular, comment here and I'll add it to my list!

I hope to return to page updates in six weeks; you can follow the Facebook page or my Twitter account for alerts.

Six weeks. Print volume pulled together in six weeks, then the Kickstart and/or preorders, then print time and shipping … I can do this, I can do this, I can do this.

None of which should take away from just how lovely today's page is — a cut crystal glass breaking on floor by candlelight. It's part of a violent moment, but it strikes me as oddly quiet and contemplative — if this were a movie, it would suddenly run in slow motion and the soundtrack would drop low for emphasis. Brava.

In contrast to the quiet, how about something loud? How about potentially the loudest thing ever associated with webcomics, namely the use of David Malki !'s greatest creation, the Piranhamoose, as a decorative element on a demolition derby² car. When said derbysters wrote to Malki ! to ask permission to include his design, he answered in the only way possible:


I'm dismayed that you have not already completed said car so I can see it. This sounds like the best idea I have ever heard of.

Click through to the before-and-after pictures. They are — in the literal sense — amazing.
---
Spam of the day:
September patch adds new levels and gameplay to Steam early access; terrifying new vision of Pac Man now available
That is the greatest subject line ever.
_______________
¹ Whose Guests page is a beautiful piece of design, featuring logos and signatures that turn into actual names when you mouse over 'em — but it's a pain to determine who's coming.
² Note for non-American readers: demolition derby is the most American possible of entertainments, where automobiles are purposely driven into each other at speed with the intention of damaging them to the point of no longer being able to be driven. It is loud, stupid, potentially dangerous to all involved, and requires a surprisingly high degree of both engineering and driving skills.